Dr. Mohammad Auais
BSc, MSc, PhD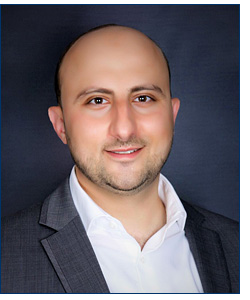 Position(s)
Contact Info
Louise D. Acton building, Room 219
Internal telephone extension: 33112
External: (613) 533-3112
---
Education
PhD (Rehabilitation Science)
MSc (Physical Therapy)
BSc (Physical Therapy)
Profile summary
Mohammad Auais is an Assistant Professor and a licensed physical therapist with expertise in musculoskeletal and geriatric rehabilitation. Following his PhD in Rehabilitation Science at McGill University, he completed two postdoctoral fellowships at Western University and Queen's University, funded respectively by Mitacs and the Canadian Institutes of Health Research (CIHR).
Research
Mohammad's research aims to increase understanding of how modifiable factors interact to influence mobility of older adults, specifically those with hip fractures, and how to integrate this knowledge into rehabilitation. His ultimate aim is to bridge the gap between actual practices and optimal care, eventually leading to better health services and patient outcomes. To date, this research has had a significant impact at both the clinical and research levels. The importance of Mohammad's research has been recognized by several awards, fellowships, and grants, including those from the CIHR, the Richard and Edith Strauss Foundation, and the International Association of Gerontology and Geriatrics. His research has been published in a number of recognized peer-reviewed journals, including the Archives of Physical Medicine and Rehabilitation, Journal of Gerontology: Medical Sciences, and Physical Therapy Journal. In addition to his clinical expertise, Mohammad has background in a wide range of methodological approaches, including quantitative methodologies, observational studies (e.g. using surveys or cohort studies), data synthesis, and experience in handling administrative databases.
Research keywords: Community-based interventions, recovery after hip fracture, mobility, epidemiological approaches.
Currently accepting MSc and PhD students and postdoctoral fellows in the following areas of research:
Community-based exercise programs for older adults
Fear of falling and disability among older adults
Tools to identify older adults at-risk of fragility fractures in primary care settings
Teaching
Areas of teaching expertise include research methods, electro-physical agents in physiotherapy, and motor function and occupational health.
Selected Peer Reviewed Publications
Auais M, French S, Beaupre L, Giangregorio L, Magaziner J. Identifying research priorities around psycho-cognitive and social factors for recovery from hip fractures: An international decision-making process. Injury. In press. 
Auais M, Morin S, Finch L, Ahmed S, Mayo N. Toward a meaningful definition of recovery after hip fracture: Comparing two definitions in community-dwelling older adults. Archives of Physical Medicine & Rehabilitation. In press.
Auais M, French S, Alvarado B, Belanger E, Pirkle C, Guralnik J. Fear of falling predicts incidence of functional disability two years later. Journal of Gerontology: Medical Sciences. In press.
Gomez F, Wu Y-Y, Auais M, Vafai A, Zunzunegui M.V. A simple algorithm to predict falls in primary care patients aged 65 to 74: The International Mobility in Aging Study. Journal of the American Medical Directors Association (JAMDA). Sep 2017; 18(9):774-779.
Auais M, Alvarado B, Guerra R, Curcio CL, Freeman E, Ylli A, Guralnik J, Deshpande N. Fear of falling and its association with life space of older adults: A cross-sectional analysis using data from five international sites. Age and Ageing Journal (1-7); May 2017; 46(3):459-465.
Auais M, Alvarado B, Garcia A, Curcio C, Yllie A, Deshpande N. Fear of falling as a risk factor of mobility disability in older persons at five diverse sites of the IMIAS study. Archives of Aging and Gerontology Journal. Sep-Oct; 66:147-53.
Auais M, Morin S, Nadeau L, Finch L, Mayo N. Changes in frailty-related characteristics of the hip fracture population and their implications for healthcare services: Evidence from Quebec, Canada. Journal of Osteoporosis International. Oct 2013; 24(10): 2713-2724. 
Auais M, Eliyyan O, Mayo N. Extended exercise program post hip fracture improves patients' physical functioning: A systematic review and meta-analysis. Phys Ther. Nov 2012; 92(11): 1437-1451. 
Related Stories
http://www.queensu.ca/gazette/stories/one-step-time
https://www.mitacs.ca/en/impact/advancing-hip-fracture-recovery-without-complex-technology