Research Project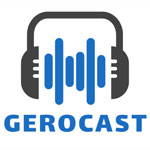 The aim of the GeroCast project is to support the learning experience of physiotherapy students in a gerontology course. Using podcast-style interviews, seniors will have the opportunity to share their various 'lived-experiences' related to aging and the healthcare system. Upon listening to podcast episodes, physiotherapy students will have the opportunity to study a senior's current case to solve a real-life challenge. Ultimately, using podcasting technology to showcase seniors' experiences could improve student attitudes towards working with seniors.
Rationale
Podcasts, or online audio broadcasts, have gained notable popularity over the past decade and are increasingly being used to support health education1-3. Recent evidence has shown that podcasts enhance student experience and outcomes, and students prefer them to traditional learning methods (i.e. reading textbooks)1. Funded by the Centre for Teaching and Learning at Queen's University, the GeroCast project aims to create 'living cases' of seniors with various ageing experiences and use podcast technology to deliver them. For physiotherapy students in a gerontology course, the podcasts will take the place of traditional written case studies and help to support their learning. Different podcast episodes will be assigned to groups of students to work on during the end of the course, and groups will present their findings at a 'mini research day'. Importantly, the living case podcasts will have broad applicability to other ageing and/or health courses in the School of Rehabilitation and at Queen's University. We are working with the Office of Professional Development and Educational Scholarship to implement and evaluate this project.
References:
Nwosu AC, Monnery D, Reid VL, Chapman L. Use of podcast technology to facilitate education, communication and dissemination in palliative care: the development of the AmiPal podcast. BMJ Support Palliat Care. 2017;7(2):212-217.
Johnson L, Grayden S. Podcasts--an emerging form of digital publishing. International journal of computerized dentistry. 2006;9(3):205-218.
Pilarski PP, Alan Johnstone D, Pettepher CC, Osheroff N. From music to macromolecules: using rich media/podcast lecture recordings to enhance the preclinical educational experience. Medical teacher. 2008;30(6):630-632.
Innovation
As Canada's population ages, seniors will form the largest percentage of patients across most practice settings1. Therefore, it is imperative to investigate innovative ways to improve physiotherapy graduates' skills and interest in seniors' care2. Using the living case approach will help students translate their learning into practice in challenging healthcare scenarios.
GeroCast is the first project that aims to develop a living case podcast for educational purposes, designed with relevant quality indicators in mind3. Over time, this form of digital education is likely to increase in popularity and be applied to other educational contexts.
References:
Statistics Canada. Census Profile. 2016 Census. 2017; Census Profile, 2016 Census - Canada [Country] and Canada [Country] (statcan.gc.ca)
Avers D. Infusing an Optimal Aging Paradigm into an Entry-Level Geriatrics Course. Journal of Physical Therapy Education. 2014;28(2):22-34.
Lin M, Thoma B, Trueger NS, Ankel F, Sherbino J, Chan T. Quality indicators for blogs and podcasts used in medical education: modified Delphi consensus recommendations by an international cohort of health professions educators. Postgraduate medical journal. 2015;91(1080):546-550.
GeroCast: Using Podcasting to Deliver Living Cases in Gerontology Education