Dr. Setareh Ghahari
BSc, MSc, PhD, OT Reg. (Ont.)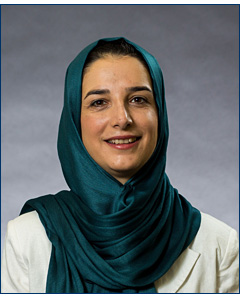 Position(s)
Associate Professor
SRT Associate Director (Occupational Therapy Program)
Contact Information
Louise D. Acton Building, CEC, Room 207
Internal telephone extension: 36789
External telephone: 613-533-6789
---
Position(s)
Associate Professor
Contact Info
Louise D. Acton Building, CEC, Room 207
Internal telephone extension: 36789
External telephone: 613-533-6789
Research:
My research has focused primarily on development and evaluation of interventions to support individuals in gaining knowledge, skills and confidence needed to manage their health conditions and access and navigate services and opportunities.  My program of research has focused specifically on two populations: (1) immigrants, a population who experience many access barriers, and (2) people who live with chronic health conditions.
Currently accepting one MSs/PhD student or a postdoctoral fellow in the following area of research:
Immigrants' health and wellness
Teaching:
I teach Cognitive-neurological Determinants in the Occupational Therapy program.
Research report:
Ghahari, Setareh (2021). Significant Impact of COVID-19 on Newcomers to Canada: A Survey Study. Short Study Report. Queen's University.
Selected Recent Peer-Reviewed Publications 
Zaman, M.S., Ghahari, S., McColl, M.A. (2021). Barriers to Accessing Healthcare Services for People with Parkinson's Disease: A Scoping Review. Journal of Parkinson's Disease.

Pillay, T., Ghahari, S., Xavier, M.S., Wali, H., James, S., Sani, M. H., Alexander, L. (2021). The necessity of community collaborations in supporting newcomer student learning: Lessons learned from the COVID-19 pandemic. Beijing International Review of Education.

Chala, M.B., Donnelly, C., Wondie, Y., Ghahari, S. & Miller, J., (2021).  Cross-cultural adaptation and validation of the Amharic version of Roland Morris Disability Questionnaire in people with low back pain in Ethiopia. Disability and Rehabilitation.

https://doi.org/10.1080/09638288.2021.1939798

     

Nuri, R. P., Aldersey, H. M., Ghahari, S., & Huque, A. S. (2021). Service providers' perspectives in providing services to children with disabilities and their families in Bangladesh. Disability and Rehabilitation.

Chala, M.B., Donnelly, C., Wondie, Y., Ghahari, S.& Miller, J. (2021). Cross-cultural translation, adaptation, and validation of the Amharic version Pain Self-Efficacy Questionnaire in people with low back pain in Ethiopia. BMC Musculoskeletal Disorders. 

Motaharinezhad F, Parvaneh S, Ghahari S. (2020) Multiple Sclerosis Walking Scale-12 (MSWS-12) and its Relationship With Fatigue in People With Multiple Sclerosis. Func Disabil J. 2020; 3 (1) :53-60, DOI:

10.32598/fdj.3.10   

 
Saghaee, A., Ghahari, S., Nasli-Esfahani., Sharifi F., Alizade-Khoei M., Rezaee M. (2020) Evaluation of the effectiveness of Persian diabetes self-management education in older adults with type 2 diabetes at a diabetes outpatient clinic in Tehran: a pilot randomized control trial. J Diabetes Metab Disord.

https://doi.org/10.1007/s40200-020-00684-0

Mayo, C.D., Farzam-kia, N., Ghahari, S. (2021). Identifying the barriers and facilitators of health service access encountered by individuals with Multiple Sclerosis. International Journal of MS care. 

https://doi.org/10.7224/1537-2073.2020-026

Motaharinezhad, F., Lajevardi, L., Hassani Mehraban, A., Ghahari, S. (2020). Occupational Challenges in the Caregivers of People with Multiple Sclerosis: A Qualitative Study, Middle East J Rehabil Health Stud. 7(4):e105815. 

doi: 10.5812/mejrh.105815

.

10.5812/mejrh.105815

Motaharinezhad, F,. Hassani Mehraban, A., Lajevardi, L., Ghahari, S. & Salimi, Y. (2020). A Qualitative Exploration of Occupational Adaptation in Caregivers of People with Multiple Sclerosis, Occupational Therapy In Health Care, 

DOI: 

10.1080/07380577.2020.1843103

 

Nuri, RP., Aldersey HM., Ghahari, S. & Huque, AS. (2020) Experience of families in accessing government-led support for children with disabilities in Bangladesh, Disability and Rehabilitation, 

DOI: 

10.1080/09638288.2020.1804000

Nuri RP, Ghahari S., Aldersey HM, Huque AS (2020) Exploring access to government-led support for children with disabilities in Bangladesh. PLoS ONE 15(7): e0235439.

https://doi.org/10.1371/journal.pone.0235439

Matthew Plow, M, Packer, TL, Mathiowetz, V., Preissner , K.,  Ghahari, S., Finlayson, M., Sattar, A.,  Bethoux, F (2020). REFRESH protocol: A noninferiority randomized clinical trial comparing internet and teleconference to in-person "Managing Fatigue" interventions on the impact of fatigue among persons with multiple sclerosis. BMJ Open 2020;10:e035470.  

  

Ghahari, S., Burnett, S., Alexander L. (2020). Development and pilot testing of a health education program to improve immigrants' access to the Canadian Health services. BMC Health Services Research.  v. 20, issue 321, pages 1-12. (Open Access).

https://doi.org/10.1186/s12913-020-05180-y

Adugna, M., Shehata, S., Nabbouh, F, and Ghahari, S. (2020). Barriers and Facilitators to Healthcare Access for Children with Disabilities in Low and Middle income sub-Saharan African Countries. (Open Access) BMC Health Services Research, v.20, Issue 1, pages 1-11.

https://doi.org/10.1186/s12913-019-4822-6

  
Current students
Molalign Adugna (PhD – Rehabilitation Science Program): The Influence of Stigma on Educational Participation among Children with Physical Disabilities in Northwest Ethiopia
Sara Morassaei (PhD – Aging and Health Program): Characteristics of aging immigrants who live with chronic conditions and are planning to have early retirement in comparison to their Canada-born counterparts
Terry Landry (DSc – Rehabilitation and Health Leadership Program) - Strategies for Delivery of Collaborative Mental Health Services in Rural Ontario Primary Care Settings: an Exploratory Study
Selamawit Workeneh Kassa (PhD – Rehabilitation Science Program) - Exploring Recovery-Oriented Practice and Recovery Trajectory Among Individuals with
Sharon Randhawa (DSc – Rehabilitation and Health Leadership Program) - TBD
Thanusha Kathiravel (PhD – Rehabilitation Science Program) – TBD
Sandra Ezepue (DSc – Rehabilitation and Health Leadership Program) - TBD
Current projects
Identifying impact of COVID-19 crisis on income and food security of newcomers to Canada

Accessing Community Help for Immigrants: Empowerment, Voice & Enablement