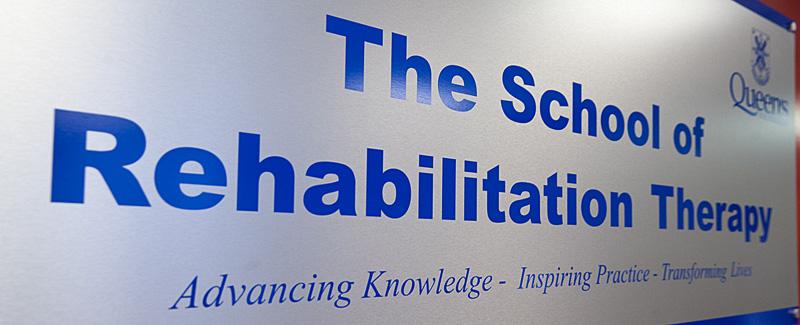 The School of Rehabilitation Therapy at Queen's University is committed to leading and inspiring positive changes that transform lives through rehabilitation research, education and practice. As part of this commitment, our core mission is to educate occupational therapists, physiotherapists and rehabilitation scientists who contribute to health and well-being globally through collaboration, creativity, and the discovery of new knowledge.
The School of Rehabilitation Therapy offers a 24 month program in Occupational Therapy leading to a professional Master of Science, Occupational Therapy (MSc(OT)) degree. Students who have completed a four-year honours Baccalaureate Degree at a recognized university are eligible to apply.
Our mission is to inspire and educate occupational therapy professionals, leaders and scholars to advance knowledge and enable occupation for individuals, groups, communities and populations.
Our values focus on five key elements:
Occupation. We believe occupations have an important influence on health and well-being.
Community. We value strong relationships with our communities from local to global.
Collaboration. We see collaboration as fundamental to our work in education, research and practice.
Inclusivity. We value diversity and seek to support occupational justice for all citizens.
Engagement. We instill life-long learning through active and engaged approaches to teaching and learning.
Our goals are to:
Prepare graduates as experts and leaders in enabling occupation.
Create knowledge to advance practice and influence policy.
Contribute to developing occupationally just communities.
Our program is designed to ensure that each graduate has acquired the essential competencies required to become a practicing occupational therapist as well as the ability to provide leadership within a complex, ever-changing practice environment. The program offers a dynamic curriculum that meets and exceeds professional practice standards. The MSc(OT) program at Queen's University prepares students with graduate level knowledge, skills and professional behaviours required for practice and leadership in the contemporary health care arena.
Our objectives
The curricular objectives of the Occupational Therapy Curriculum are consistent with the six competency areas articulated in the Profile of Occupational Therapy Practice in Canada (2012), culminating in the overarching goal of being skilled Enablers of Occupation. By the end of the MSc(OT) Program, our students will…
Demonstrate competency in the assessment and intervention of occupation performance and engagement. (Enabler of Occupation)
Understand the complexities of human occupation and its reciprocal relationship with health and well-being. (Enabler of Occupation)
Demonstrate the ability to engage in ethically informed practice. (Professional)
Demonstrate effective management of professional relationships across diverse populations. (Professional)
Engage with systems and processes to demonstrate professional and competent practice. (Professional)
Manage resources and processes to support effective and efficient practice. (Practice Manager)
Engage in effective and inclusive communication in diverse settings and sociocultural contexts. (Communicator)
Enable and encourage shared decision making. (Communicator)
Engage in effective collaborative practice. (Collaborator)
Establish sustainable partnerships with individuals, groups and communities. (Collaborator)
Identify, synthesize and apply evidence to inform the science and practice of occupational therapy. (Scholarly Practitioner)
Develop skills and attitudes to support life long learning.(Scholarly Practitioner)
Engage in independent and collaborative critical enquiry to create, share and advance knowledge. (Scholarly Practitioner)
Develop skills to advocate for change. (Change Agent)
Collaborate to empower individuals, groups, communities and populations. (Change Agent)
Domain of Concern - Occupational Therapy
Occupational Therapy is a rehabilitation discipline that promotes health through enabling occupation. Occupation consists of a balance between the three spheres of self-care, productivity and leisure. Occupational therapists work primarily with people with disabilities.
We prepare students for the many roles that occupational therapists choose. Our students are prepared for roles in direct service delivery. Some may also pursue graduate education, allowing them to assume clinical specialist, researcher, educator, administrator, advocate and consultant roles.
Organizing Framework
The Queen's Occupational Therapy educational conceptual framework is grounded in three foundational elements: an educational philosophy, educational theories, and a taxonomy of occupation.
Educational philosophy. The Queen's Occupational Therapy Program is informed by social constructivism (Vygotsky, 1980, Lave & Wenger, 1991), where knowledge and learning are viewed as inherently social in nature, shaped by personal experiences, values and interactions. The following central beliefs underscore and support our philosophy:  
We believe in the social nature of knowledge construction, and the value that each individual brings to our learning community.
We believe that experiences enrich the practice of occupational therapy. As such, we draw on the diverse and varied backgrounds of our student body and partners.
We believe that occupational therapists engage in complex and varied roles in their professional practices to meet the diverse needs of individuals and communities who receive occupational therapy services. Thus, we seek to ensure students have exposure to a variety of practice settings, roles and models of practice to develop the core skills to enable occupation. 
Our philosophy also aligns with Queen's University's Guiding Philosophy on Equity, Diversity and Inclusivity, and is lived out in our commitment to support of diverse learners. 
Educational theories. Six primary educational theories inform our educational approaches and evaluation strategies: 
| | |
| --- | --- |
| Adult Learning | Our learners bring a multitude of skills and experiences to the program, and diverse learning needs. Courses and teaching strategies are organized to explicitly integrate past and emerging experiences. |
| Case Based Learning | Learners engage with complex occupation-related cases where there is not always one "solution", but rather multiple perspectives and contextual factors to be considered. Cases can be presented in a broad range of formats, ranging from lecture (the instructor as story teller) to electronic media. |
| Collaborative Learning | Students are assigned to learning teams that are balanced in terms of student educational background and demographics. Learning becomes a collaborative process that draws from the strengths of each member. Students also gain experience in collaborative interprofessional learning. |
| Experiential Learning | Fieldwork education placements offer students opportunities to engage in authentic learning occurs in community development and service learning opportunities. |
| Reflective Practice | Students benefit from explicit training in reflective practice where they internalize a clinical reasoning process. Reflective skills are applied from the first term forward, culminating in a capstone clinical reasoning course. |
| Transformative Learning | Students are encouraged to critically reflect on their assumptions and challenge their attitudes, views and beliefs in relation to diversity, disability, health and wellness. |
Taxonomy of Occupational Therapy: This framework, developed by McColl, Law and Stewart (2015), guides the overall structure of our curriculum and ensures an occupation-based curriculum (Hooper et al, 2018). This taxonomy is founded on the potential of occupation to enable health. Basic to this framework is the idea that both individual characteristics (physical, psychological-emotional, cognitive-neurological, and social-cultural) and environmental components contribute to healthy occupations. In order to develop the potential of occupation as a means to health and to understand and enable the occupational performance of clients, students require in-depth and critical knowledge of both conceptual models (those that come from the social sciences, and those that are based in occupation) and models of practice – ways of acting therapeutically to change occupations, and ways to change specific human and environmental components. 
This Taxonomy has been used to design our course structure, and can be seen as two of the foundational pillars in our curricular themes: Fundamentals of Occupational Therapy, Disability and Health and Determinants of Occupation. This foundation helps to ground the overall curriculum in occupation as a central organizer, and to help students situate other learning related to communication, lifespan and critical inquiry in their core understanding of humans as occupational beings.  
Professional Conceptual Framework
The professional conceptual framework is based on two primary sources:
Profile of Occupational Therapy Practice in Canada (CAOT, 2012)
The Profile of Occupational Therapy Practice in Canada (Profile) (CAOT, 2012) acknowledges the wide range of competencies that are expected of an occupational therapist. The Profile was developed in conjunction with the Enabling Occupation II (Townsend & Polatajko et al., 2007). The Queen's Program in Occupational Therapy is designed to prepare students to the meet these entry-to-practice competencies. The six core Profile components are prominently represented on the Integrated Conceptual Framework (Figure 2.1) and components of each competency area are used to determine the targeted learning outcomes for each course in the curriculum. 
The Enabling Occupation documents (CAOT, 1997; revised 2002; Townsend & Polatajko et al., 2013 (2nd Ed)) were intended as leadership documents for the profession of occupational therapy in Canada. Enabling Occupation II enhances the understanding of the core concepts and applications − drawing on scholarship and evidence that has accumulated over the past 25 years. It reinforces the importance of: identifying occupation as the core concern of the profession; embracing the concept of enablement as a core competency of occupational therapy; recognizing the extension of occupational therapy practice beyond individuals and families to communities, organizations and populations; introducing a new practice framework that embraces these new understandings; emphasizing the value of scholarship and evidence; and advancing the vision of world health to include well-being and justice through occupation.  The guiding values and beliefs entrenched in Enabling Occupation II support the fundamental philosophy and beliefs of the Queen's Program in Occupational Therapy, and help inform curriculum content and development.
References:
Canadian Association of Occupational Therapists (2012).  Profile of Occupational Therapy Practice in Canada.
McColl, MA, Law, M & Stewart, D (2015) Theoretical basis of occupational therapy (3rd ed.).  Thorofare NJ:  Slack Inc. (p. 20).
Townsend, E. & Polatajko, H. et al. (2013). Enabling Occupation II (2nd Ed):  Advancing an Occupational Therapy Vision for Health, Well-being and Justice through Occupation.
The School of Rehabilitation Therapy offers a twenty-four month program in Physical Therapy leading to a professional Master of Science (PT) degree.
Our mission is to provide an outstanding learning environment for the education of future physical therapy professionals. With critical enquiry and evidence-based practice as the foundation, the program promotes the acquisition of advanced academic knowledge, skills and behaviours that are essential for a primary health care provider in a complex and continually evolving health care environment.
The overall aim of the program is to ensure that the graduate has the ability to provide leadership within a changing health care environment and acquire the essential competencies of a practicing physical therapist.
Accreditation
The MScPT Program is accredited by Physiotherapy Education Accreditation Canada (PEAC).  In October 2012 PEAC Council granted the program Accreditation, Fully Compliant, until November 2017.
Regulation of Practice
All physiotherapists in Canada must be registered with the appropriate provincial or territorial regulatory body. Each jurisdiction has its own registration process. In Ontario successful completion of the Physiotherapy Competency Examination (PCE) is required for registration with the College of Physiotherapists of Ontario.
About the Physical Therapy Program
Physical Therapy is a first contact, autonomous, client-focused health profession dedicated to: improving and maintaining functional independence and physical performance; preventing and managing pain, physical impairments, disabilities and limits to participation; and promoting fitness, health and wellness.
This 24 month program prepares students to enter the physical therapy profession. The client-centred curriculum progresses from single system problems in the mid lifespan to more complex problems and situations occurring at the extremes of the lifespan spectrum. Students are exposed to representative conditions and the various contexts in which physical therapists work, from the public system to private and community based settings.
Our mission is to educate and train scholars to conduct research in the rehabilitation sciences and translate knowledge through mentorship and collaboration.