Dr. Sandra Fucile
PhD, OT (reg)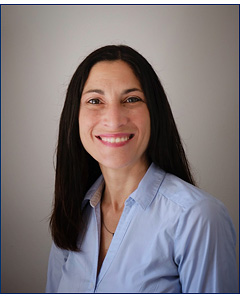 Position(s)
Contact Information
Louise D. Acton Building, Room 212
Internal telephone extension: 32143
External telephone:
---
Currently accepting MSc and PhD students
Education
Research fellowships (University of Florida & University of Rochester)
PhD in Rehabilitation Science (McGill University)
MSc in Rehabilitation Science (McGill University)
BSc in Occupational Therapy (McGill University)
Research
Dr. Fucile's research program focuses on optimizing the health, development, and quality of life of infants born at risk for neurodevelopmental disorders, with a particular focus on infants born preterm. Her research program encompases three areas: 1) Identification of neurodevelopmental biomarkers; 2) Creating and testing innovative assessments tools; and 3) Design and evaluation of novel family-integrated intervention approaches to optimize the well-being of infants and their families. Her research program is supported by grants from the Canadian Institutes for Health Research, the Social Sciences and Humanities Research Council of Canada, the Canadian Occupational Therapy Foundation, Queen's Health Sciences, and University Hospitals Kingston Foundation. Her I.N.F.A.N.T. research lab is based at the Kingston Health Sciences Centre and consists of an interdisciplinary team of students, clinicians, researchers, and families conducting clinical investigations to enhance the health and development of infants.
Teaching
OT 802 Models of Practice in Occupational Therapy
OT 883 Cognitive-Neurological Determinants of Occupation l
OT 897 Critical Enquiry Foundations
Link to Google Scholar Profile
https://scholar.google.com/citations?user=pYncn4kAAAAJ&hl=en
Link to Infant Lab