Queen Elizabeth II Scholarships in International Community-Based Rehabilitation at Queen's University provide Canadian graduate students in Rehabilitation Science and Occupational Therapy, and scholars from low-income African and Asian countries, with a unique opportunity to learn and connect internationally, collaborate with peers, and effect change for people with disabilities and their families.
These scholarships provide the opportunity for one Master's student in the Rehabilitation Studies (RHBS) program to conduct thesis-related research in Bangladesh (Component 1). In addition, 18 student interns from the Occupational Therapy (OT) program have completed or will complete community development and practicum experiences in India and Tanzania (Component 2). Finally, in addition to facilitating Canadian student research and internships internationally, this program also enables us to host 4 scholars from low-income Commonwealth countries (e.g., India, Ghana, Nigeria) to comprise an active cohort of PhD student leaders with a specialization in international CBR at Queen's (Component 3).
Component 1: While in Bangladesh, Canadian RHBS MSc students are provided with a unique opportunity to develop insight and understanding of the multidisciplinary and inter-professional aspects of rehabilitation. The exact topics of thesis-related field research are determined in consultation with the student, the student's faculty supervisor, and the community partner, the Centre for the Rehabilitation of the Paralysed (CRP).
Photo: Reshma (Component 1) assists with Participatory Action Research at CRP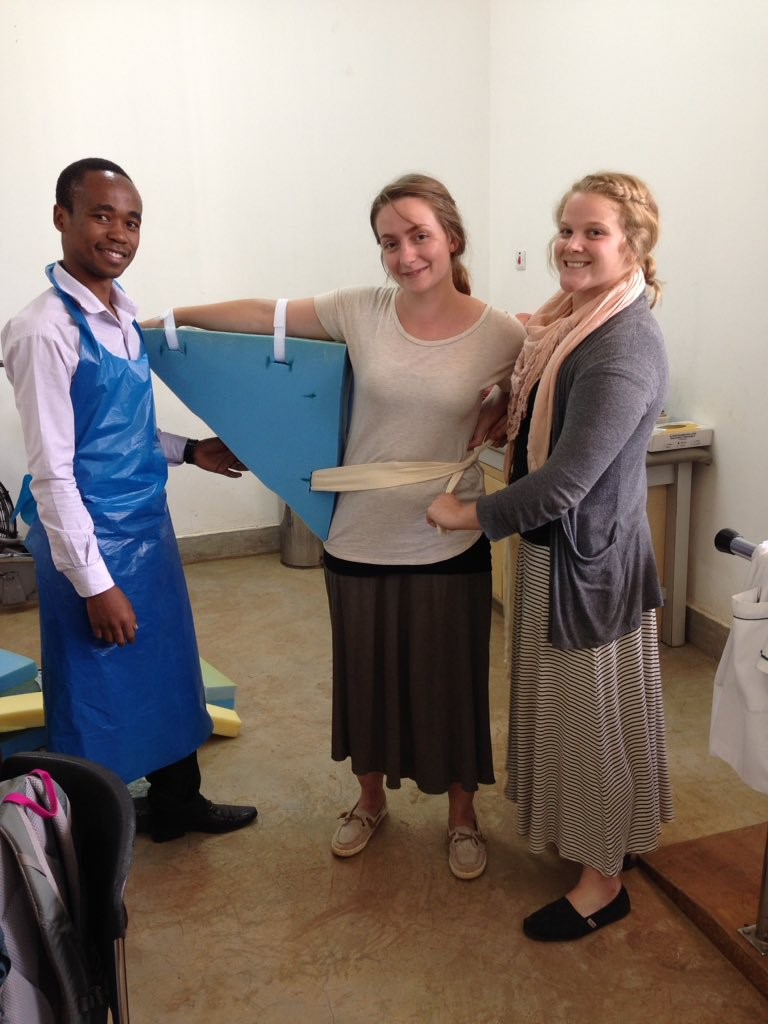 Photo: Cate and Kara (Component 2) create a therapeutic tool for people with spinal cord injury in Tanzania
Component 2: Master's students in OT complete two international placements (community development and advanced practicum) in either India or Tanzania, lasting a total of three months. Students first have multiple pre-departure preparation and orientation meetings before leaving Canada. Once they get to the field, students participate in a Community Development placement. This course (OT862-Community Development Fieldwork Placement) is the practical application of OT861 (Community Development in Occupational Therapy), where students learn the theoretical foundations and processes of working with communities to enable participation and engagement at the community level. Second, OT students participate in their final fieldwork experience with an international institutional partner. The objective of this fieldwork is for students to consolidate professional practice skills necessary to function as autonomous, independent, reflective practitioners, who are able to cope with and be part of changing health-care environments. In this second fieldwork experience, students are closely supervised by a local or Canadian preceptor and gain credit for OT877-Advanced Practice. The QEII program offers a unique opportunity for international and cross-cultural application of these two established placement courses for students who may not have otherwise had the opportunity.
Component 3: Component 3: Under this component, Queen Elizabeth Scholars in international community-based rehabilitation come to Queen's for 3-4 years to complete a PhD in RHBS. The goal of this component is to train community leaders from low-income Commonwealth countries to lead international CBR projects through RHBS coursework, a CBR-focused dissertation, and a 10 hour/week community service commitment at the ICACBR office at Queen's and with community partners. With training and experience in CBR, scholars are challenged to find innovative, community-driven solutions that will result in improved access to health and social services for some of the most vulnerable populations globally.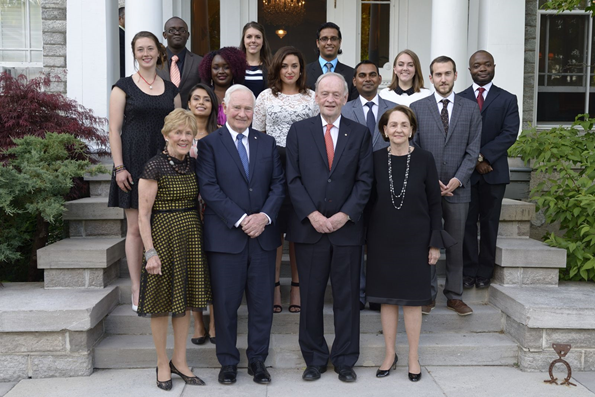 Photo: Atul (Component 3) at a QEII gathering with former Prime Minister Jean Chretien
Photo: Component 1 & 3 scholars at the School of Rehabilitation Therapy