Dr. Nora Fayed
BScH, MScOT, PhD, OT Reg. (Ont.)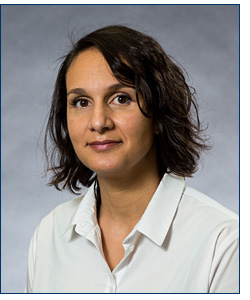 Position(s)
Contact Information
Contact information: Louise D. Acton Building, Room 224
Internal telephone extension: 36101
External telephone: 533-6101
---
Profile Summary
Dr. Fayed's areas of expertise are: (i) determinants and predictors of quality of life among children with chronic health conditions, (ii) child and parent patient-reported outcome and experience measures (PROMs/PREMs), (iii) health services evaluations, and iv) application of the WHO International Classification of Functioning, Disability and Health (ICF) to child chronic health services research. In addition, she has clinical experience in driver rehabilitation, and feeding obtained from Bloorview Kids Rehabilitation in Toronto.
Past achievements include a Marie-Curie European Union Fellowship at the [former] ICF Research Branch of the World Health Organization in Munich Germany from 2008-2009; CIHR funded postdoctoral fellowship 2012-2015 held at University Health Network Division of Health Care and Outcomes and McMaster Department of Pediatrics; a Canadian Child Health Scientist Career Enhancement Award; and the Micheal deGroote Fellowship Award. She is currently the co-Chair of the International Society of Quality of Life (ISOQOL) Canadian Special Interest Group.
Research Program
There is a strong need in service provision to understand what is important to children with chronic health needs and measure it. Good measurement tools are essential to moving health care innovations forward but they also have to include the types of things that will have an impact on children's lives.
"Everything that Counts" is a research program dedicated to learning about what is important to children growing up with chronic health conditions, then evaluating health and social services based on what is important using the best measures.