Dr. Kathleen Norman
BScPT, PhD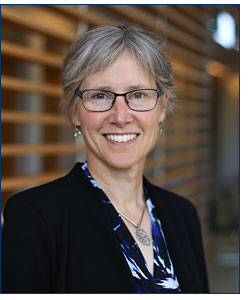 Position(s)
Professor
Associate Director (Research & Post-Professional Programs)
Contact Information
Louise D. Acton Building, Room 231
Internal telephone extension: 36104
External telephone: 613-533-6104
---
Education
PhD (McGill)
BScPT (Queen's)
Eligible to supervise trainees in the following programs/levels:
MSc (Rehabilitation Science) thesis
PhD (Rehabilitation Science or Aging and Health) thesis
DSc (Rehabilitation and Health Leadership) applied thesis
post-doctoral fellow
Interested prospective trainees should specify how their research interests align with my current research activities described below.
Research:
My research is currently focused on physiotherapist workforce issues and physiotherapy student education; this research encompasses demographics and history of the profession, practice patterns and assessment of competence. It also includes how physiotherapy students learn to be skilled, and how physiotherapists work in our current health care systems. I am one of the inaugural Reznick Scholars in Health Professions Education of the Faculty of Health Sciences, currently focused on educational scholarship in rehabilitation science.
Teaching:
My principal teaching responsibility in the Physical Therapy professional entry-level program is in regard to professional practice matters. I have previously taught in the PT program about rehabilitation of people with neurological trauma or diseases, and in the Rehabilitation Science graduate program seminar courses. In all three of the Rehabilitation Science, Aging and Health, and Rehabilitation and Health Leadership programs, I supervise graduate students and serve on thesis advisory and comprehensive examination committees.
Research profiles:
To see Google Scholar profile, click here.
To see ORCID profile: https://orcid.org/0000-0001-7409-7704
Selected publications (Scholarship of Education)
Wojkowski S, Norman KE, Stratford P, Mori B. Physiotherapy student performance in clinical education: an analysis of one year of Canadian cross sectional data. Physiotherapy Canada 2021; 73(4): 358-367. doi:10.3138/ptc-2020-0018
Kalu ME, Switzer-McIntyre S, Quesnel M, Donnelly C, Norman KE. Clinical instructors' perceptions of internationally educated physical therapists' readiness to practice during supervised clinical internships in a bridging programme. Physiotherapy Canada 2021; 73(2): 194-203. doi:10.3138/ptc-2019-0067
Hall M, Mori B, Norman KE, Proctor P, Murphy S, Bredy H. How do I choose a job? Factors influencing the career and employment decisions of physiotherapy graduates in Canada. Physiotherapy Canada 2021; 73(2): 168-177. doi:10.3138/ptc-2019-0059
Kalu ME, Switzer-McIntyre S, Quesnel M, Donnelly C, Norman KE. Clinical performance scores of internationally educated physical therapists during clinical education in a bridging programme. Physiotherapy Canada 2019; 71(3): 271-284. doi:10.3138/ptc.2018-10.e
Coghlan CM, Mallinger H, McFadden A, Richard J, Stern A, Norman KE. Demographic characteristics of applicants to, and students of, Ontario physiotherapy education programs, 2004-2014: Trends in gender, geographical location, Aboriginal identity and immigrant status. Physiotherapy Canada 2017; 69(1): 83-93 doi:10.3138/PTC.2016-23E
 
Selected publications (Physiotherapy profession / practice)
Bostick GP, Norman KE, Sharma A, Toxopeus R, Irwin G, Dhillon R. Improving cultural knowledge to facilitate cultural adaptation of pain management in a culturally and linguistically diverse community. Physiotherapy Canada 2021; 73(1): 19-25. doi:10.3138/ptc-2019-0027
McLeod KE, Norman KE. "I've found it's very meaningful work": Perspectives of physiotherapists providing palliative care in Ontario. Physiotherapy Research International; 2019: e1802. doi:10.1002/pri.1802
O'Donovan MJ, Campbell F, Norman KE. Exploring record keeping, clinical reasoning, and practice context: peer assessment findings from the perspective of situational competence. Physiotherapy Canada 2017; 69(3): 235-246. doi:10.3138/PTC.2016-35
Norman KE, O'Donovan MJ, Campbell F. Impact of College-administered quality practice assessments: a longitudinal evaluation of repeat peer assessments of continuing competence in physiotherapists. Physiotherapy Canada 2015; 67(2): 174-183 doi: 10.3138/ptc.2014-21

Jones J, Norman K, Saunders S. Trends and Drivers of Change in Physiotherapy in Ontario in 2014. Provided to the College of Physiotherapists of Ontario, 2014 August. Available from: http://hdl.handle.net/1974/12616
 
Selected publications (Primary care)
French SD, Green ME, Bhatia RS, Peng Y, Hayden JA, Hartvigsen J, Ivers NM, Grimshaw JM, Booth CM, Rühland L, Norman KE. Imaging use for low back pain by Ontario primary care clinicians: protocol for a mixed methods study - The Back ON study. BMC Musculoskeletal Disorders. 2019;20:50. doi:10.1186/s12891-019-2427-1
Miller J, Barber D, Donnelly C, French S, Green M, Hill J, MacDermid J, Marsh J, Norman K, Richardson J, Taljaard M, Wideman T, Cooper L, McPhee C. Determining the impact of a new physiotherapist led primary care model for back pain – Protocol for a pilot cluster randomized controlled trial. Trials 2017; 18(1): 526. doi:10.1186/s13063-017-2279-7
For other publications, see Google Scholar or ORCID profile (links above)