Dr. Sunita Mathur
BScPT, MSc, PhD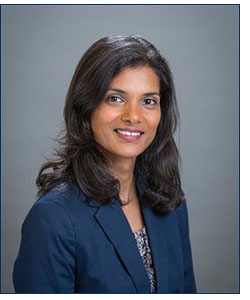 Position(s)
Associate Professor
Associate Director (Physical Therapy Program)
Contact Information
---
Education:
Post-doctoral – University of Florida
PhD (Human Kinetics) – University of British Columbia
MSc (Rehabilitation) – Dalhousie University
BSc (Physiotherapy) – Dalhousie University
Currently accepting MSc and PhD students, and post-doctoral associates in the following areas of research:
Pulmonary rehabilitation
Critical illness and post-ICU acquired muscle weakness
Sarcopenia
Skeletal muscle imaging (ultrasound, CT, MRI)
Physical activity and exercise in solid organ transplant
Dr Mathur supervises students in Rehabilitation Science and Aging and Health.
Research:
Dr Mathur is a physiotherapist and Associate Professor in the School of Rehabilitation Therapy. Her research program focuses on the evaluation and rehabilitation of sarcopenia and skeletal muscle dysfunction in people with chronic disease. Dr. Mathur studies multiple patient populations including people with chronic lung diseases (such as COPD, interstitial lung disease and cystic fibrosis), solid organ transplantation, critical illness and intensive care acquired weakness.
Dr Mathur conducts research in the Motor Performance Lab at Queen's University. She uses a combination of non-invasive techniques to examine muscle structure and function including muscle force measurements (dynamometry), exercise testing, bioelectrical impedance analysis, magnetic resonance imaging and spectroscopy (MRI/MRS), muscle ultrasound and computed tomography (CT).
Dr Mathur also conducts research in knowledge translation with a specific focus on exercise and physical activity in solid organ transplant. She is the co-founder and co-Chair of CAN-RESTORE (https://canrestore.wordpress.com/), a national network dedicated to achieving optimal well-being in transplant patients through exercise and rehabilitation.
See PubMed for current publications: https://www.ncbi.nlm.nih.gov/myncbi/sunita.mathur.1/bibliography/public/
Teaching:
Dr Mathur's teaching is in the areas of cardiorespiratory physiotherapy and exercise physiology and exercise prescription in the MScPT program.
Dr Mathur also provides continuing education/professional development sessions to the clinical community on topics such as exercise testing and prescription in chronic disease, pulmonary rehabilitation, and sarcopenia and frailty in chronic disease.
Professional Affiliations:
Canadian Physiotherapy Association
Canadian Society of Transplantation
Canadian Thoracic Society
Canadian Donation and Transplantation Research Program
Canadian Society for Exercise Physiology