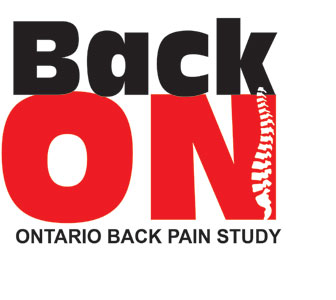 The Back ON study is a study about the primary care management of back pain in Ontario. Specifically, it is a cohort study investigating the natural course and treatment of patients with low back pain by chiropractors, physiotherapists and family doctors practising in Ontario. Given that low back pain is one of the most common complaints in primary care, it is important to obtain a clearer picture of its current course and treatment in our province.
This study is funded by the Canadian Institutes of Health Research and supported by the Ontario Chiropractic Association, the Ontario Physiotherapy Association, and the Ontario College of Family Physicians.
If you are a patient of a participating doctor, chiropractor or physiotherapist, please click here to see the Study Information Letter and Consent Form.
For interested family doctors, chiropractors and physiotherapists, please here to contact us about your participation.
Note about COVID-19 impacts for participating practitioners
We know that the COVID-19 situation could impact participating clinics over the next few weeks and months. There are directives from government authorities, from your regulatory bodies, and from your professional associations that may alter your practice. As you know, this study is a non-intervention study of usual practice, and the impact of the COVID-19 outbreak will be reflected in the study data. Within the constraints of the situation as it unfolds, we hope the study can continue in all participating practices over the next year. Thank you for your continued contributions, to the extent that it is feasible for you.
The REB at Queen's University (Health Sciences and Affiliated Hospitals Research Ethics Board) has indicated that there are currently no restrictions on enrollment of new participants for ongoing research that is occurring within any community-based setting. If these recommendations change, we will immediately bring them to your attention.
As always, if you have questions, please do not hesitate to contact us via BackON@queensu.ca