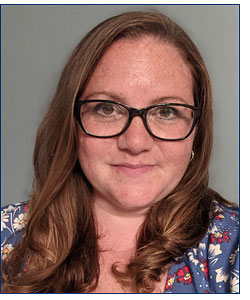 Position(s)
Fieldwork Coordinator
Admissions Coordinator
Lecturer
Contact Information
Louise D. Acton Building, Room 218
External telephone: 343-363-7652
---
Work Experience:
Areas of interest include maternal mental and physical health, pediatric health, and nature- based therapy.
Work experience includes 10 years of clinical practice in a variety of settings with most recently operating a nature-based private practice in maternal and pediatric wellness.
Research:
Recent research includes identifying the occupational therapy role within Caesarean birth recovery, identifying the occupational therapy role in women's health, understanding the lived experience of pregnancy, postpartum and recovery during a pandemic, and the use of nature-based interventions in occupational therapy and postpartum mood disorders
Teaching:
Primary teaching includes fieldwork and fieldwork preparation for all placement levels.