Dr. Lucie Pelland
B.Sc. (PT), M.Sc., Ph.D. (McGill)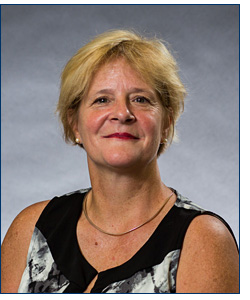 Position(s)
Contact Info
Louise D. Acton building, Room 222
Internal telephone extension: 33237
External telephone: 613-533-3237
---
Currently accepting M.Sc. students in the following areas of research:
biomechanics of paediatric concussions
biomechanics of knee joint in paediatric clinical populations
Research:
Dr. Pelland's research aims to understand the development of sensory-motor control in both typical child development and in selected paediatric clinical populations. Visually-guided reaching is used as a model to explore the dynamic influences of neural maturation, cognition and limb mechanics on the development and learning of sensory-motor control. Virtual reality and robotic technology (KINARM Exoskeleton, Dr. Stephen Scott) are used to design behavioural tasks that allow us to investigate specific components of these dynamic process, and to precisely evaluate the effects of brain injury sustained during childhood and adolescence on the developmental trajectories of sensory-motor coordination and learning. Through recent collaborative research partnerships, brain imaging is being included in our studies to examine the neural correlates of measured performance. A parallel of research stream uses electromyography, motion analysis and computational modelling to understand the developmental biomechanics of head and neck control, as it relates to paediatric concussion in ice hockey.
A fundamental goal of my research is the translation of methods and knowledge to clinical practice to inform the design of rehabilitation interventions that will optimize neural plasticity, child function and safe participation in sport.
Membership:
 
Member, International Organisation of Physical Therapists in Paediatrics, World Confederation of Physical Therapy - Education Committee
Canadian Physiotherapy Association, Chair - Paediatric Division
Member, Canadian Alliance of Physiotherapy Regulators, Kingston Clinical Item Generation Subcommittee
Member, Ontario Graduate Scholarship Selection Panel, 2010-2012
Reviewer, Scientific Review Panel, Canadian Institute for Military and Veterans Health Research
Society for Neuroscience
Center for Neuroscience Studies, Queen's University
Human Mobility Research Center, Queen's University
 
Teaching:
 
Dr. Pelland teaches PT 861 (Paediatrics) and PT 851 (Muscle Dysfunction) and contributes to the teaching in OT/PT 898 (Critical Enquiry) within the professional program streams. She also teaches modules within the Motor Performance course (RHBS 801/901) in the Graduate Program in Rehabilitation Science.
 
Current Funding:
 
CIHR; Ontario Brain Institute; Canadian Institute of Military and Veterans Health
 
Recent Publications (* denotes students)
 
Refereed Journal Articles
 
Pelland L, Shearer M.* Effects of physical exertion on lower extremity biomechanics during stair descent in aging. Gait & Posture, (submitted)
Hurtubise K, Pelland L. Impact of anticipated bereavement on parental decision making in family-centered care. Physiotherapy Canada. Accepted November 2012.
Almosnino S,* Pelland L, Stevenson JM. Retest reliability of force-time variables of neck muscles under isometric conditions. Journal of Athletic Training. 2010; 45:453-458.
Tessmer A,* Mooney P, Pelland L. A developmental perspective on congenital muscular torticollis: A critical appraisal of the evidence. Pediatric Physical Therapy. 2010; 22:378-383.
Almosnino S,* Pelland L, Pedlow SV, Stevenson JM. Between-day reliability of electromechanical delay in selected neck muscles during performance of maximal isometric efforts. Sports Medicine, Arthroscopy, Rehabilitation, Therapy & Technology. 2009; 1:22 (doi:10.1186/1758-2555-1-22). 
Beaulieu F,* Pelland L, Robertson DGE. Kinetic analysis of forwards and backwards stair descent. Gait & Posture. 2008; 27:564-571.
Aiken AB, Pelland L, Brison RJ, Pickett W, Brouwer B. Short term natural recovery of ankle sprains following discharge from emergency departments. Journal of Orthopaedic and Sports Physical Therapy. 2008; 39:566-571.
 
Peer-reviewed Abstract
 
'Flynn T,* Mechefsky C, Pelland L. Computational modelling of the weight-bearing joint contact forces at the knee : Toward an understanding of the altered knee joint mechanics in children with cerebral palsy. Canadian Physiotherapy Association National Congress. 2011; July 14-17, Whistler, British Columbia.
Pelland L, James V.* Collaborative coaching solutions for sport-participation of children with disabilities : Extended educational role for paediatric therapists. Canadian Physiotherapy Association National Congress. 2011; July 14-17, Whistler, British Columbia.
Henderson C,* Herter T, Scott SH, Pelland L. Developmental profiles of multi-joint upper limb position sense. Canadian Physiotherapy Association National Congress. 2011; July 14-17, Whistler, British Columbia.
Henderson C,* Herter T, Scott SH, Pelland L. Objective measures of multi-joint sense of the upper extremity: Application to clinical paediatrics. 23rd Congress of the International Society for Biomechanics. 2011; July 3-7, Brussels, Belgium.
Gilchrist I,* Davidson L, Almosnino S, Pelland L. Neck muscle strength training in youth hockey: Evaluation of the research evidence. 2011; 58th Annual Meeting and 2nd World congress on Exercise in Medicine of the American College of Sports Medicine. 2011; Denver, Colorado, USA.
Martin C, Jones J, Burge P, McQueen M, Pelland L, Lysaght R, Justinich D, Jones C, Grier L, Casson I. Interprofessional Teaching Day in Intellectual Disabilities. 2011; Canadian Conference on Medical Education, May 7-11, Toronto, Ontario.
Pelland L, Almosnino S,* Gilchrist I,* Chapman E, Davidson L. Reliability in measurement of short-latency neck stiffness variables of force and muscle activation. Ice Hockey Summit: Action on Concussion. 2010; October 19-20. Mayo Clinics, Rochester, Minnesota, USA.
Pelland L, Choe N,* Herter T, Scott SH. Developmental profiles of visually-guided researching movements. 40th Annual Meeting of the Society for Neuroscience. 2010; November 13-17, San Diego, California, USA.
Pelland L, Almosnino S,* Stevenson J. Between-day reliability in the measurement of short-latency muscle activation and force time variable of the neck. 16th Annual Meeting of the Canadian Society of Biomechanics.. 2010; June 9-12, Kingston, Ontario.
William LM, Choe N,* Pelland L, Scott SH, Reynolds JN. Sensory-motor deficits in children with fetal alcohol spectrum disorder assessed using a robotic virtual reality. Alcoholism, Clinical and Experimental Research; Abstracts of the 33rd Annual Scientific Meeting of the Research Society on Alcoholism 2010; 34:96A; San Antonio, Texas, USA.
Freeman K,* Davidson L, Pelland L. Digital 'storytelling; within a social network: A blended learning approach to clinical reasoning in paediatrics. Canadian Physiotherapy Association National Congress. 2010; July 22-25, St-John's, Newfoundland.
Schneider K, Pelland L. Return to play guidelines following a concussion : The 'developmental' dilemma in paediatric sport. Canadian Physiotherapy Association National Congress. 2010; July 22-25, St-John's, Newfoundland.
Emery C, Pelland L, Schneider K, Werstein R. Pediatric Concussion : A continuum of evidence. Canadian Physiotherapy Association National Congress. July 22-25, St-John's, Newfoundland.
Pelland L, Allum J, Troy J,* Switzer A,* Keith V. Participation of children with Cerebral Palsy in a competitive swim program. Canadian Physiotherapy Association National Congress. 2008; May 29-June 1, Ottawa, Ontario.
Pelland L, Joss B*, Allum J, Chircop K*, Giajnorio A*. Predictive control of posture to voluntary movement in Cerebral Palsy. 61st Annual Meeting of the American Academy for Cerebral Palsy and Developmental Medicine. 2007; October 10-13, Vancouver, British Columbia.
Pelland L, Joss B,* Leroux A, Charbonneau E,* Cybulski J.* The adaptive control of stair descent. International Society for Posture and Gait Research Conference. 2007; July 14-18, Burlington, Vermont. USA.