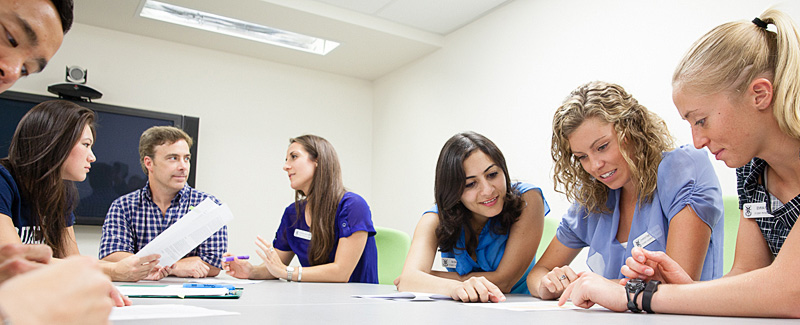 OT and PT students participating in interprofessional case study discussion.
From left to right: Nathanael Tsang, Karen O'Neil, Prof. Randy Booth, Moragh MacKenzie, Bushra Bayan, Christine Creelman, Emma Plater. © Queen's University
Physical Therapy Students complete five clinical placements, each 6 weeks long.
By the end of the Program, the PT students must have completed 1025-1200 hours total in the following:


| | |
| --- | --- |
| 1 | Acute/Hospital placement |
| 1 | Rehabilitation/Long Term Care placement |
| 2 | Community/Ambulatory placements |
| 1 | Elective placement |
In addition, each student must acquire significant experience in each of the following essential areas of practice:
Cardiovascular and respiratory conditions
Neurological conditions
Musculoskeletal conditions
Significant experience in each area may be gained during one clinical placement, or through components of multiple placements.
A minimum of

100 hours

should be completed in each of the essential areas of practice (msk, cardio resp, and neuro)
Hours of experience in cardio-respiratory, musculoskeletal and neurological will be accumulated and recorded across the 5 clinical placements using the Clinical Competency Checklist and Placement History Tracking Sheet. 
Occupational Therapy Students complete three clinical placements, each 8 weeks long and one community development placement (185 hours).
By the end of the program, the OT students must have successfully completed the following:


| | |
| --- | --- |
| Mental Health | 1 placement |
** for the other 2 placements the student is exposed to various areas of occupational therapy practice. The program encourages students to develop their skills in a variety practice settings/contexts.
The School is able to support a variety of different models for clinical placements.
| | |
| --- | --- |
| 1:1 | One student and one therapist |
| 1:2 | One student and two therapists (sharing the supervisory role); this may also be supported between two sites |
| 2:1 | Two students supervised by one therapist |
| Part time | Placement dates can vary |
Our fieldwork coordinator(s) or academic coordinator(s) of clinical education are interested to assist you to support clinical learning at your site.