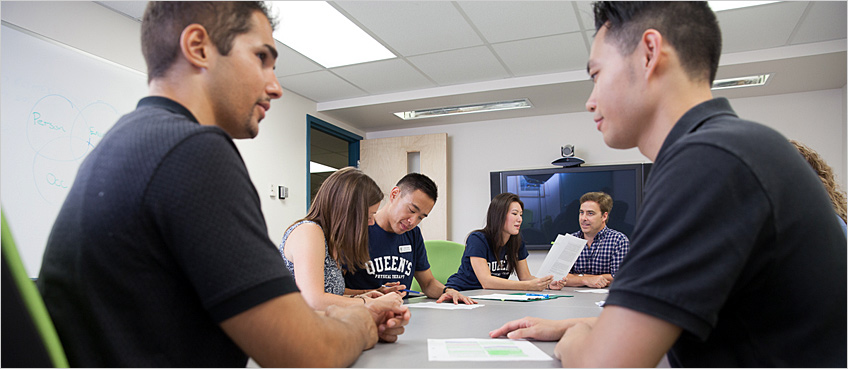 PT and OT students participating in interprofessional case study discussion. From left to right: Jared Maynard, Patricia Knobl, Nathanael Tsang, Karen O'Neil, Prof. Randy Booth, Leirick Chung. © Queen's University
The mission of the MScPT program is to inspire our learners to excel as competent and compassionate physiotherapists through transformative education, research, student experiences, and collaborative partnerships.
The overarching goal of our program is to graduate competent and compassionate physiotherapists ready for physiotherapy practice. We aim to achieve this goal by: i) implementing an innovative curriculum that incorporates best evidence in physiotherapy teaching, learning, and practice; and ii) promoting a healthy and enriching student experience.
The curriculum follows a competency-based framework in which the specific goal is to prepare our graduates to achieve the competencies required for practice as a physiotherapist in Canada, including competencies in the following domains: physiotherapy expertise, communication, collaboration, management, leadership, scholarship, and professionalism.
The curriculum is delivered over a continuous 24-month period.
Curriculum for the MSc PT graduating classes of 2022 and 2023
For current students, the MSc PT curriculum is organized into 14 (7-week) blocks.
9 blocks are devoted to academic/clinical instruction, and
5 blocks are assigned clinical placement experiences.
Curriculum for the MSc PT graduating classes of 2024 (incoming in fall 2022) and beyond
The incoming class in September 2022 (class of 2024) will be the first cohort to participate in our re-designed curriculum. The Physical Therapy Program at Queen's is transitioning to a competency-based education program.
Critical to our competency education approach, we: focus our curricular goals on outcomes, emphasize abilities and application of knowledge rather than just knowledge, de-emphasize time-based training, and take a learner centered approach. We conceptualize a progression in competency throughout our program and use a spiral curriculum to progress our learners to entry-level milestones associated with each of the competencies in the Competency Profile for Physiotherapists in Canada.
As a graduate program who admits only adult learners, we incorporate and embrace adult learning theory or andragogy (Knowles) in our curriculum. Our incorporation of adult learning theories means we acknowledge that adults learn better when they: incorporate their experiences (and mistakes), are supported to focus on specific problems to solve, learn things that have immediate relevance (clinical implications), and are engaged in the planning and evaluation of their learning.
Our curriculum also has foundations in situated learning theory. Situated learning theory suggests learning is a function of the context and culture in which the learning activity is undertaken. This theory proposes that learning is strongest when presented in an authentic context when possible and that learning requires social interaction and collaboration. Our curriculum integrates and emphasizes experiences in authentic practice contexts to support the competency development of our learners. Our curriculum uses active, small group learning activities that facilitates communication between students and between students and faculty through the formation of a community of practice to facilitate learning.
Finally, our curriculum has a foundation in transformative learning theory (Mezirow). Transformative learning is "an orientation which holds that the way learners interpret and reinterpret their experience is central to making meaning and hence learning." The Physical Therapy program provides new experiences (sometimes disorienting dilemmas) to its leaners, which challenge them to evaluate their past ideas and understanding, and shift their worldview through critical reflection as they obtain new information. Mezirow has described transformative learning as, "learning that transforms problematic frames of reference to make them more inclusive, discriminating, reflective, open, and emotionally able to change." In alignment with this description, we use transformative learning as a way to encourage compassion, cultural humility, cultural competence, and inclusivity.
The re-designed curriculum is organized into three periods of time:
Foundations of physiotherapy practice (September to December of first year)
Core of physiotherapy practice (January to August of first year)
Transition to physiotherapy practice (September to August of second year
Each time-period targets a set of milestones to ensure progression in physiotherapy competencies over time, ending with achievement entry-to-practice milestones at the end of the program.
Throughout the two-year program, students will participate in six physiotherapy placement experiences that span six to eight weeks each. Five of these placements will be in clinical settings (e.g. acute care hospital, rehabilitation hospital, outpatient clinics, community care, children's treatment center, or long-term care). One of these placements will be focused on community health. Students will complete a minimum of 1,025 hours in the physiotherapy placement courses over the course of the 2-year curriculum
Most courses receive a grade mark, of which a minimum of "B+" is considered a pass. Some courses (e.g., clinical placements), are assessed on a pass/fail basis.
In accepting a position in the MScPT program, you must be prepared to undertake clinical placements as assigned. The majority of clinical placements will be arranged in facilities within the Queen's University catchment area. Catchment boundaries normally include Whitby in the west; Cornwall in the east, and Orillia/Midland in the north). Clinical placements are assigned based on availability, needs, and whenever possible, your preferences.
You are required to arrange your travel and accommodation, and cover related expenses. Placements may also be arranged elsewhere in Ontario, Canada or internationally; approval being dependent on a number of factors.
Upon successfully completing the Physical Therapy program at Queen's University, graduates may apply to the Canadian Alliance of Physiotherapy Regulators to take the Physiotherapy Competency Examination. Currently, the examination must be successfully completed for professional registration to practice as a physical therapist in Canada.