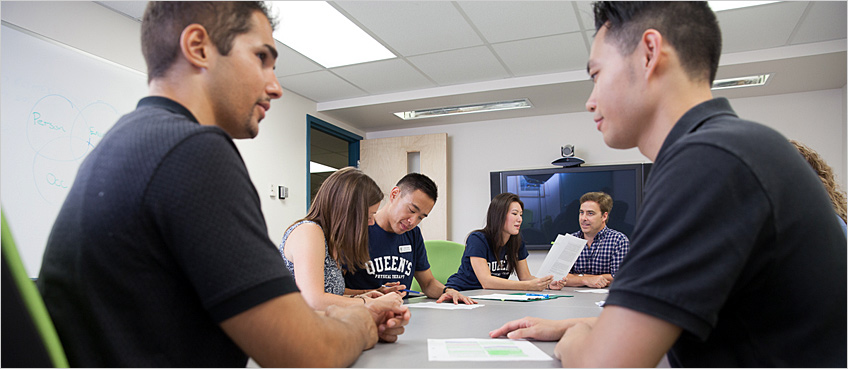 PT and OT students participating in interprofessional case study discussion. From left to right: Jared Maynard, Patricia Knobl, Nathanael Tsang, Karen O'Neil, Prof. Randy Booth, Leirick Chung. © Queen's University
The mission of the MScPT program is to provide an outstanding learning environment for the education of future physical therapy professionals.
The curriculum follows a competency-based framework in which the specific goal is to prepare individuals to undertake the roles of a physical therapist in Canada.
These roles include the following:
Clinical practitioner

Communicator

Collaborator

Manager

Advocate

Scholarly practitioner

Professional
Each role is considered to be an essential competency that must be demonstrated for successful completion of the program.
The curriculum is delivered over a continuous 24-month period that consists of 14 (7-week) blocks:
9 blocks are devoted to academic/clinical instruction, and

5 blocks are assigned clinical placement experiences.
Most courses receive a grade mark, of which a minimum of "B+" is considered a pass. Some courses (e.g., clinical placements), are assessed on a pass/fail basis.
You will complete approximately 1,025 hours in clinical placements over the course of the 2-year curriculum.
In accepting a position in the MScPT program, you must be prepared to undertake clinical placements as assigned. The majority of clinical placements will be arranged in facilities within the Queen's University catchment area. Catchment boundaries normally include Whitby in the west; Cornwall in the east, and Orillia/Midland in the north). Clinical placements are assigned based on availability, needs, and whenever possible, your preferences.
You are required to arrange your travel and accommodation, and cover related expenses. Placements may also be arranged elsewhere in Ontario, Canada or internationally; approval being dependent on a number of factors. Upon successfully completing the Physical Therapy program at Queen's University, graduates may apply to the Canadian Alliance of Physiotherapy Regulators to take the Physiotherapy Competency Examination.
The examination must be successfully completed for professional registration to practice as a physical therapist in Canada.