Offering a Placement
If you are interested in becoming a Queen's MScOT Program fieldwork site and offering clinical placement to our MScOT students (and we hope you are!), please complete the following steps:
Please complete the Fieldwork Site Profile (FS-Pro).
Return the completed Fieldwork Site Profile to the Clinical Education Assistant, otfieldwork@queensu.ca or to 613-533-6776. In this document you will identify:

A contact person for your site (known as the Site Coordinator)
The Site Coordinator's email contact, phone number, fax number
Other information about the nature of your facility and practice

Once the MScOT program receives your sites contact information , you will receive an Affiliation Agreement and insurance details between Queen's and your clinical site which you will need to sign and return to the Clinical Education Assistant (either email otfieldwork@queensu.ca or fax: 613-533-6776).
This is a standard agreement which all our clinical sites sign and outlines basic student supervision and facility resources requirements.
The Clinical Education Assistant will provide you with this document and will answer any questions.
A Fieldwork Coordinator/designate will complete a site visit or electronically provide you with an MScOT Clinical Education Orientation information and answer any questions.
Once the affiliation agreement is signed, your Site Coordinator's contact name and email address will be added to our Queen's MScOT Clinical Sites email list.
Once your Site Coordinator's contact information is added to our Queen's MScOT Clinical Sites email list, the Site Coordinator will receive email information from the MScOT clinical education program related to:

Requests for fieldwork offers (annual call sent once a year in May)
Notification of MScOT clinical education opportunities (noon time sessions, ½ day workshops, webinars and/or conferences).
Changes to the MScOT Program which may impact our clinical education partners
NOTE: the Site Coordinator distributes information received from the MScOT program to other occupational therapists at the facility.

If you would like to offer a placement, please complete the placement offer sheet (which will be attached to the placement request email), describe the placement and send this offer back to the MScOT Program, Clinical Education Assistant,otfieldwork@queensu.ca
Each therapist/site has the choice of offering or not offering a placement during each time period (e.g. some therapists offer a placement once a year, while others offer 2-3 placements per year... based on a sites therapy staff, available space, preference for students, holidays etc.)
If you have any questions please contact:
Susanne Murphy (susanne.murphy@queensu.ca) or Amanda Hall (hall.amanda@queensu.ca)
Fieldwork Coordinators
Occupational Therapy Program
Supporting OT Students in a New Normal(Pandemic) - Community and Private Practice
OT Fieldwork Learning in a New Normal (Pandemic)
Supporting OT Students in a New Normal (Pandemic) - Acute Care Placements
Richard Kellowan, OT Clinician, Fieldwork Coordinator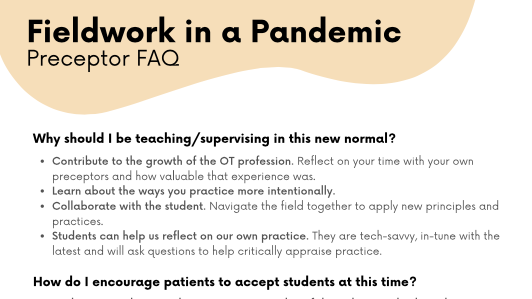 View a list of FAQs about fieldwork during the pandemic.