The Clinical Education Awards in Occupational and Physical Therapy were established to recognize excellence in teaching by clinical preceptors who are affiliated with the School of Rehabilitation Therapy at Queen's University.
The Awards are granted on the basis of demonstrated excellence in clinical teaching, to therapists who have served as clinical preceptors in any type of clinical setting.
Clinical preceptors can be nominated for this award by students, clinical/fieldwork coordinators in the School of Rehabilitation Therapy, or by colleagues or supervisors at their clinical facility. All clinical community partners and students will receive a call for nominations in the fall of each year. Awards are presented annually at the fall Clinician Appreciation Event.
For more information on the Awards or the nomination process, please contact:
Amanda Hall (hall.amanda@queensu.ca) - Occupational Therapy or
Melanie Law (lawm@queensu.ca) - Physical Therapy
Occupational Therapy Award Winner - Sarah Thompson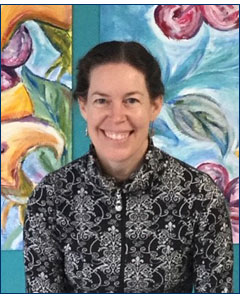 Ms. Sarah Thompson, OT

Sarah graduated from Queen's University as an OT in 1995. She has worked at the Perth and Smiths Falls District Hospital for the majority of her career, with a special interest in stroke rehabilitation. Sarah has been taking students from Queen's as well as some from McMaster and Ottawa U for 20 years. She has also enjoyed being the clinical advisor for a few OTs to get their currency hours in order to return to practice and for one internationally trained OT to meet their college registration requirements. These experiences have kept Sarah inspired to continue to learn and grow as an OT. She is very grateful to her clients and the interdisciplinary team at PSFDH for being so inclusive and supportive of OT students.
Physical Therapy Award Winner - Christopher Pawliuk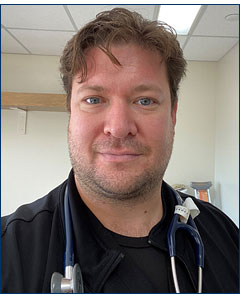 Christopher Pawliuk, BSc(Hons), MScPT
Chris completed his undergraduate studies in Life Science at Queen's in 2006 and went on to complete his Master's degree in Physical Therapy at Queen's in 2008. He has been employed at Kingston Health Sciences Centre - KGH since 2009. Chris has worked primarily in acute care during his career, in a variety of clinical areas including critical care, orthopedics and most recently neurology and neurosurgery. He began contributing to clinical education since 2009 and has taken many students over the years. Being involved in clinical education has been a very rewarding experience, and as helped to make him a better clinician. Chris is honoured to be the recipient of the 2021 PT Clinical Education Award and would like to thank all of his previous students, his co-workers and the faculty at Queen's for their support over the years.
Occupational Therapy Award Winner - Shannon Mills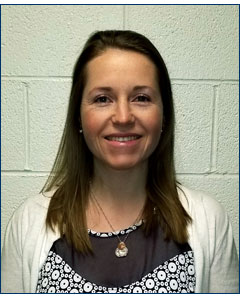 Mrs. Shannon Mills, OT

Shannon completed her M.Sc OT from Queen's in 2008, after graduating with a degree in Human Kinetics and Biology from St. Francis Xavier University. She has spent the majority of her career at Kingston General Hospital; initially in orthopaedics and ABI, before settling into neurology/neurosurgery, vascular and cardiac surgery. Other work experience includes private practice, in-patient rehabilitation at Providence Care, and providing services to adults with intellectual disabilities at Ongwanada. Having students join her for placement has always been an important and enriching part of her job as she recognizes the value of hands-on clinical exposure and practice. Being able to facilitate and witness the "click" that often occurs when students begin to thrive and envision the scope of OT in a particular setting is one of the most rewarding parts of her job. Receiving this award has been both humbling and motivating for her as she heads into her 10th year as an OT!
Physical Therapy Award Winner - Ashish Bharti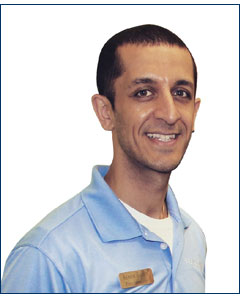 Mr. Ashish Bharti, PT
Ashish graduated from the Kinesiology program at McMaster University before completing his Master's degree in Physiotherapy at Queen's University in 2007. He started his career in Toronto at the Canadian Back Institute before moving to Cornwall to take over Personal Touch Physiotherapy. He has a passion for working in Private Practice and loves to help students during their placements. He recently co-founded PhysioCoach to further help future/current Physiotherapists. He is honoured to be the recipient of the Clinical Education Award and wants to thank all of his previous students and the faculty!
Occupational Therapy Award Winner - Adriana Farcas
Ms. Adriana Farcas, OT

Working in a community mental health setting within Providence Care since graduation, Adriana had the privilege to meet and introduce dozens of Occupational Therapy students to the practical ABCs of the field. Drawing from the example of her own amazing preceptors and co-workers, and feeling inspired by the students' interest and dedication to the profession, Adriana continues to strive for finding the best approach in channelling clinicians' and students' expertise and compassion towards improving the quality of life of those they serve.
Physical Therapy Award Winner - Karen Parks
Ms. Karen Parks, PT

Karen Parks completed her undergraduate degree at Western University in Health Science from 2001 to 2005. She then went on to complete her Masters in Physiotherapy Degree at Queens University from 2005-2007. Karen started her career as a new grad at Lakeridge Health Oshawa, and continues to work there on the integrated stroke unit. She has worked in variety of clinical settings including ICU, medicine, orthopedics and neurological rehab. Karen began her role as a clinical educator for Physio students in 2009. She has been the clinical preceptor for 17 students thus far. Karen's love for clinical education inspired her to attain a teaching and training adults certificate through Durham College. She now teaches part time at Durham College in the School for Health and Community studies.
Occupational Therapy Award Winner - Kathy Sparrow
Ms. Kathy Sparrow, OT

Since graduation Kathy has been an Occupational Therapist at Grandview Children's Centre in the Durham Region. As a student Kathy was fortunate to have had amazing preceptors when on clinical placements and wanted to pay this forward to future student occupational therapists. Kathy has supervised 14 OT students in her 15 years of practice. While she was the Occupational Therapy Discipline Lead at Grandview Kids she saw a need to develop a student package for clinicians and students to use as a resource which was well received by her colleagues. Supervising Student Occupational Therapists has allowed Kathy to regularly reflect on her own practice, clinically reason out loud, and share in her excitement when children and families reach their goals.
Physical Therapy Award Winner - Stephanie Brian
Ms. Stephanie Brian, PT

Stephanie completed her Physiotherapy degree at Dalhousie University. She has worked at Kingston General Hospital as an acute care Physiotherapist for more that 10 years and has a passion for providing care in the clinical areas of cardio-respiratory and oncology. She is honoured to be the recipient of this year's Clinical Education Award in Physical Therapy and wishes to thank her students past and present for helping her pursue her professional goals of being a great mentor and Physiotherapist!
Occupational Therapy Award Winner - Dave Carmichael
Physical Therapy Award Winner - Hussein Karim
Mr. Hussein Karim, PT

Hussein graduated from University of Queensland Masters of Physiotherapy program in Australia. He also holds degrees from Queen's University in Physical and Health Education and Health Science. Due to Hussein's commitment to excellence he keeps up to date with the most current research in Physical Therapy to provide the latest in evidence-based practice. In addition, his professionalism, respect, and communication with his students allows him to be a highly effective instructor whose teaching methods bridge classroom learning with real world application.
Occupational Therapy Award Winner - Carrie Marshall

Carrie is an Occupational Therapist Case Manager with the Heads Up! Program at Hotel Dieu Hospital in Kingston, ON. As a doctoral candidate at the School of Rehabilitation Therapy, her research interests are focused on the occupations of persons experiencing chronic homelessness. She has mentored students both within her own clinical practice, and in role emergent placements. Carrie is regularly involved in the education of students not only through clinical fieldwork placements, but also as a teaching assistant in the Queen's MSc OT program. Carrie firmly believes that the challenge of providing education both helps her to expand on her own knowledge, as well as grow personally as a therapist.
Physical Therapy Award Winner - Phil Edmunds

Phil has owned and operated Huronia Physiotherapy and Chiropractic Clinic for over 20 years, located on beautiful Georgian Bay in Midland, ON. Phil has passion for the outdoors and for clinical teaching in his practice for Queen's University. He is honoured to receive this year's Clinical Education Award in Physical Therapy and thanks all those involved in the program for their work and support.