The School of Rehabilitation Therapy Distinguished Alumni Awards were established in 2013, thanks to the generous support of faculty member and Queen's alumna, Diana Hopkins-Rosseel, MSc (Rehabilitation Science) '92, and her husband, John Rosseel, BA (Artsci) '81. The Awards recognize one graduate annually from each of the Physical Therapy, Occupational Therapy, Rehabilitation Science, and Aging and Health programs who has made exceptional contributions to their chosen profession, field and/or community. Recipients are presented with their awards at the School's annual Homecoming Event.
To nominate an alumnus for this award please complete and submit the nomination survey by July 30, 2021. The survey can be accessed here.
The award will be presented on the basis of the graduate's exceptional contributions to their chosen profession/field and/or their community. Recipients will be recognized for their contributions in one or more of the following areas:
Distinguished themselves, at home or abroad, and made a difference to the well-being of others
Provided leadership and/or advocacy within their chosen profession
Demonstrated an ongoing commitment to the education of rehabilitation students and/or graduates
Advanced rehabilitation research and/or best practice
Continued involvement with Queen's and/or the Queen's community


To obtain more information about the award, please contact the Director of the School of Rehabilitation Therapy Marcia Finlayson marcia.finlayson@queensu.ca.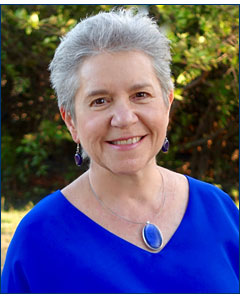 Distinguished Alumni Award (Occupational Therapy): 
Pat McKee, Diploma (OT)'74 
Pat McKee is an Associate Professor Emeritus in the Department of Occupational Science and Occupational Therapy at the University of Toronto. For 40+ years, she has taught anatomy, hand therapy, biomechanics, orthotics (splinting), ergonomics, and occupational therapy for musculoskeletal conditions to students and therapists worldwide.
Pat co-authored the textbook "Orthotics in Rehabilitation: Splinting the Hand and Body", as well as numerous peer-reviewed articles and book chapters, including one in the latest edition of Rehabilitation of the Hand and Upper Extremity, titled "Client-centered Bio-occupational Framework for Orthotic Intervention".
Pat is also a guitar-playing, singer-songwriter. Most notably she wrote and recorded "Look Beyond" which was adopted as Canada's Official Song for International Year of Disabled Persons in 1981. http://youtu.be/Ol6lOl5HHlY. Among other songs she has written is "The Crazy Hand Anatomy Blues". 
In recent years, she has collaborated with Anne Agur, an anatomy professor at the University of Toronto, to develop educational media called the Anatomy Glove Learning System, which is now being used by medical and allied health professionals and students in 34 countries around the world. www.anatomysoftwear.com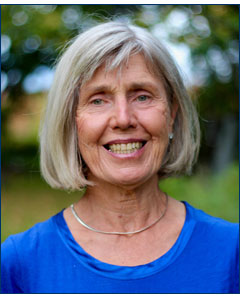 Distinguished Alumni Award (Physical Therapy):
Julie Rice, Diploma (PT)'70, BSc (PT)'73 
While still in high school, Julie volunteered at the Ontario Crippled Children's Centre (now Holland Bloorview Kids Rehabilitation Centre). This marked the beginning of her lifelong dedication to children and young adults with special needs. After graduating from Queen's she embarked on a 45 year career as a Clinical Physiotherapist and has had a profound effect on children with special needs, their families, her professional colleagues and her local community of Grey Bruce County and beyond.  
Julie has the unique ability to assess the needs of others and her community. She is the connector to make things happen by organizing the logistics of projects from writing grant applications, resourcing facilities, hiring staff, raising awareness and funding, always with a hands on approach, a smile and good grace.  
In response to the lack of local paediatric therapy services, Julie developed relationships with families and Paediatricians to advocate for funding for health related services in the local hospital and community agencies. She continued this advocacy throughout her entire career and expanded the vision of service delivery beyond health care to include prioritizing and coordinating paediatric interdisciplinary assessment and treatment services. Her leadership role in this interdisciplinary group led to the development of many programs and community initiatives including; MUMS (Moms Under Maximal Stress), Steps To School (transition routines for special needs kids prior to starting kindergarten) and Extend -A-Family (connecting families of disabled children to share experiences with families of healthy children).  
Julie has constantly expanded her skills and knowledge with a wide range of therapy tools but Aqua Therapy has been a key element in her treatment approach, as it combines therapy and recreation to assist with basic active movement through to Special Olympics training. It is the mix of traditional and non traditional treatment methods that have fostered Julie's enthusiasm for her work. 
She championed an accessible family change room and therapeutic warm water pool for a new local YMCA. For this accomplishment, she received a 2011 Special Award for Professional Contribution - External from the Ontario Physiotherapy Association, recognizing her as an ambassador for the profession. In addition, she was the driving force behind REACH - a program to provide meaningful work, recreation and housing for adults with special needs and currently acts as an advisor to their Board of Directors. There was a wish in her faith community for a Labyrinth to practice mind, body and spirit connections. Julie was a leader in fulfilling this wish, and for her efforts, she received the Owen Sound YMCA Peace Medallion in 2006.  
Volunteer work is second nature to Julie. She has had a career long involvement with the Ontario Physiotherapy Association, serving as a director for 3 years as well as actively participating in her local chapter. Internationally, she spent 15 years assisting with health and humanitarian projects in Guatemala and Ecuador, several weeks a year. Currently she is an active Board member on a Family Foundation, supporting community development for marginalized people, at home and abroad.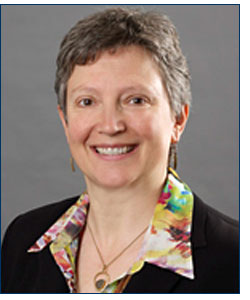 Distinguished Alumni Award (Rehabilitation Science):
Cally Martin, BSc (PT)'84, MSc (RHBS)'99
Cally is the Regional Director of the Stroke Network of Southeastern Ontario. In this role since 2001, Cally has worked with partners across Southeastern Ontario and province-wide to lead health system change in stroke prevention, hyperacute and acute care, rehabilitation, recovery and community support. These changes have supported care providers in delivering best practices designed to realize the vision of "Fewer Strokes. Better Outcomes."  Cally worked as a neuro physiotherapist and practice leader in acute and rehab settings for 17 years prior to this work. 
Her Master's program included research in post-stroke mobility and studies in program management and evaluation. More recently, Cally has participated in health system research relating to rural access to stroke prevention and care, home-based stroke rehabilitation services, emergency stroke care systems, and virtual healthcare. The Stroke Network has recently supported region-wide consolidation of acute stroke care to specialized stroke units and has re-organized stroke care delivery to ensure timely access to endovascular thrombectomy services at Kingston Health Sciences Centre, the Regional Stroke Centre for Southeastern Ontario.
Distinguished Alumni Award (Aging and Health):
Ruth MacKay MSc (AH)'16
Ruth MacKay is the Co-founder and co-owner of WISHSTONE – Compassionate Partners in End-of-Life Planning and Care (www.wishstone.ca).  
Wishstone supports individuals and families navigating the complex issues and emotions surrounding aging, dying, death and grieving.  In addition, Wishstone is dedicated to expanding awareness, engagement and dialogue around these important stages of life.  Ruth and her business partner, end-of-life-doula Sarah Farr, have presented to diverse audiences including Sprint Senior Care, Family Councils Ontario, Ryerson University, Alzheimer's Toronto, ALS Society of Canada, Oxford College paramedic students, and the Stomach Regional Cancer Centre Grand Rounds.
Prior to establishing Wishstone, Ruth provided person-centered care as an experienced volunteer to hundreds of individuals and families in both in-home and residential hospice settings.  
In 2015, following a 20-year career in senior project management and strategic planning roles in the broader public sector (provincial government and postsecondary institutions), Ruth realized that she was finding her hospice volunteer role much more rewarding than her "paid" career. She enrolled in the inaugural class of the new MSc. in Aging and Health at Queen's University to broaden her skills and identify a new role where she could provide meaningful services that would build on her existing experience.
Ruth continues to complement her work through Wishstone with volunteer service at Journey Home Hospice, Hospice Toronto and Dying with Dignity.  In 2018 she was a member of the Health Quality Ontario Working Group that advised the government on the development of quality standards for palliative care in Ontario.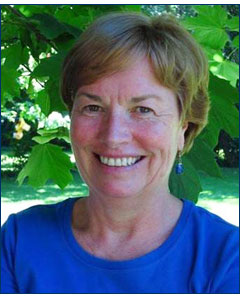 Distinguished Alumni Award (Occupational Therapy):
Dr. Margo Paterson, BSc (OT)'74
Dr. Margo Paterson is currently the Executive Director of the Association of Occupational Therapy University Programs and Professor Emerita in the Faculty of Health Sciences at Queen's University. Her academic credentials include a M.Sc. in Community Health and Epidemiology (1994) from Queen's University and a PhD in Health Sciences from the University of Sydney Australia (2003).
Dr. Paterson's scholarly contributions are within a number of areas including professional practice and theory-practice integration including inter-professional education, care and practice; fieldwork education, clinical reasoning, and qualitative research. She has published work in all of these areas and presented it at many national and international scientific meetings. Along with various colleagues, she has almost $10 million in research related funding over her career. In addition to teaching at the graduate and undergraduate levels, Margo held administrative roles as Chair of the Occupational Therapy Program several times and as Director of the Office of Interprofessional Education and Practice in the Faculty of Health Sciences from 2009-2012. Upon her retirement from Queen's in 2013, Margo co-taught a course on inter-professional education at the Bader International Study Centre at the Herstmonceux Castle, East Sussex UK from 2013-2016.
Margo's current volunteer role is with the Queen's School of Graduate Studies as a faculty mentor for the PhD Community Initiative which she has done since the program began in 2016. She has demonstrated leadership in her field with the awarding of the 2012 Canadian Association of Occupational Therapy (CAOT) Leadership Award and she became a Fellow of CAOT in 2015.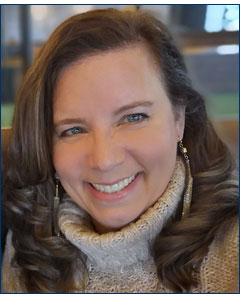 Distinguished Alumni Award (Physical Therapy):
Dr. Judi Laprade, BSc (PT)'93
Dr. Judi Laprade is an Associate Professor in the Anatomy Division at the University of Toronto. She is the course director for anatomy courses in the Kinesiology & Physical Education, Dentistry and Physical Therapy programs as well as offering an advanced Anatomy & Biomechanics elective. She has previously taught anatomy and physical therapy courses at Queen's University, University of Toronto and The Hong Kong Polytechnic University, as well as pursuing research in musculoskeletal rehabilitation.
In the past 15 years, she has been involved in projects related to Osteoporosis screening, education and exercise management, culminating in being hired in 2010 as a consultant responsible for the development of the Bone Fit (TM) Clinical and Basics workshops offered through Osteoporosis Canada to health and exercise specialists. These workshops provide safe, effective, evidence-based exercises to create a continuum of care from the clinic to the community or home. Judi additionally has served as the Content Development Lead and Lead Trainer for nearly 10 years, updating the evidence, pedagogy and resources for the workshop as well as teaching over 70 workshops across Canada. Most recently, she has lead two workshops with a train-the-trainer model for a new partnership between Osteoporosis Canada and the National Osteoporosis Foundation in the USA.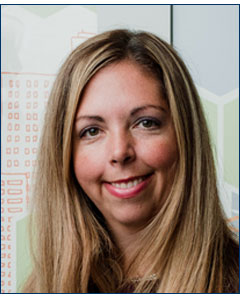 Distinguished Alumni Award (Rehabilitation Science):
Dr. Skye Barbic, MSc (RHBS)'07
Skye is a proud graduate of the Queen's Rehabilitation Science Program (2007), Occupational Therapist (2004), and biggest fan of Kingston Ontario. After completing her PhD and post-doctoral studies, she is now an Assistant Professor at the University of British Columbia in the Department of Occupational Science and Occupational Therapy. She leads a program of research to support the roll out if integrated youth health services in British Columbia called Foundry (foundrybc.ca). She also plays a key role on the Federal Minister of Health's Mental Health Advisory Council. Skye was listed as one of Canada's Top 150 Canadians for Mental Health for her work in measuring the recovery needs of Canadians. She now makes her home on the North Shore of Vancouver with her husband David (Queen's grad) and two future Queen's grads Kisely (Age 12) and Carter (Age 9).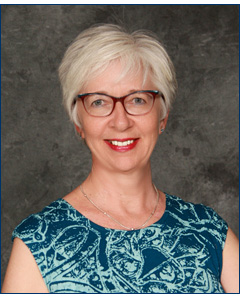 Distinguished Alumni Award (Occupational Therapy):
Mary Ann McColl, Class of 1978, BSc
Mary Ann McColl, PhD, MTS
Dr. Mary Ann McColl is
• Professor in the School of Rehabilitation Therapy and in the Department of Public Health Sciences at Queen's University, Kingston, Ontario, Canada;
• Academic Lead for the Canadian Disability Policy Alliance;
• Associate Director at the Centre for Health Services & Policy Research, Queen's University.
Dr. McColl is the author of numerous peer-reviewed publications in the areas of disability policy, disability in primary care, occupational therapy, spirituality & disability, and long-term health in spinal cord injury. She is one of the 6 authors of the Canadian Occupational Performance Measure, now in its 5th edition (2014), and Research on the COPM: An annotated resource (2006). She has also written a number of books, including Introduction to disability (1998), Disability & social policy in Canada (2nd ed.; 2006), Theoretical basis of occupational therapy (3rd ed., 2015), Interventions, effects & outcomes in occupational therapy (2010), Spirituality & occupational therapy (2nd ed., 2011), Emerging models of chronic disease management (2007) and Interprofessional primary health care (2009). Her new book, due in print in Fall 2018, is entitled, Appreciative disability studies.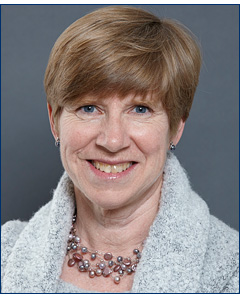 Distinguished Alumni Award (Occupational Therapy):
Nancy Pollock, Class of 1978, BSc
Nancy is a faculty member in the School of Rehabilitation Science and a Scientist with the CanChild Centre for Childhood Disability Research, both located at McMaster University. Nancy also continues in clinical practice, working with children and their families in the community. Nancy has worked within the field of child health throughout her career in a variety of settings: hospitals, rehab centres, outpatient clinics, homes, and preschools and she has a particular interest in school-based occupational therapy practice. Her research has focused on the development of measures, evaluation of therapy approaches, goal setting within family-centred practice and models of service delivery within schools.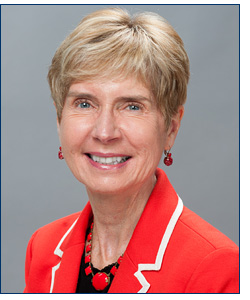 Distinguished Alumni Award (Physical Therapy):
Wendy Rheault, Class of 1978, BSc
Wendy Rheault, PT, PhD, FASAHP, FNAP
Provost and Professor of Physical Therapy
Wendy.rheault@rosalindfranklin.edu
On August 1, 2014, Wendy Rheault, PT, PhD was appointed Rosalind Franklin University's first Provost. In this role, Dr. Rheault advises the President concerning University-wide issues that are central to the academic mission and vision of the University and she works closely with the President, Deans and Vice Presidents in developing academic priorities, providing strategic direction and ensuring academic accountability for the University.
Dr. Rheault has been with the University for over 34 years in various roles. She was Chair of the Physical Therapy program for 10 years and in that role led several successful accreditation visits. Dr. Rheault served as Associate Dean of the College of Health Professions (CHP) for 10 years and worked with the Dean of the College to develop the MS in Physician Assistant Studies, the MS in Pathologists' Assistant Studies and the Doctor of Physical Therapy program. In 2003, Dr. Rheault was appointed Dean of CHP and she served in this role until her appointment as Provost. Under her leadership, CHP doubled in size and all programs were successful in their respective accreditation visits with many of the programs receiving no citations. In addition, while she was Dean, the following programs were added to CHP: MS in Nurse Anesthesia, MS in Clinical Counseling, MS in Health Professions Education, MS in Women's Health, MS in Health Promotion, Prevention and Wellness, PhD in Interprofessional Healthcare Studies and the DSc in Interprofessional Healthcare Studies. Dr. Rheault was appointed Vice President of Academic Affairs in 2008 and in that role led the development of the Alliance of Health Sciences with DePaul and the University's interprofessional initiative. Her esteem in the interprofessional community was realized when she was named a Visiting Professor at Mayo.
Dr. Rheault received her physical therapy degree from Queen's University in Kingston Ontario Canada in 1978. In 1981, she received the MA in Curriculum and Instruction from the University of Chicago and in 1989, she was subsequently awarded a PhD in Measurement, Evaluation and Statistical Analysis, also from the University of Chicago.
Dr. Rheault has published in peer reviewed journals and has presented at national and international meetings. Her areas of scholarship include the role of interprofessional education in health professions education and practice and the psychometric analysis of clinical and educational measurement instruments using Rasch Analysis. Dr. Rheault is committed to service to our community and is a former Board member for the Healthcare Foundation of Northern Lake County. Nationally, she was invited to serve on two Institute of Medicine committees and she is a Fellow of the Association of Schools of Allied Health Professions (ASAHP) and was inducted to the National Academies of Practice (NAP) as a Distinguished Fellow, and to the Physical Therapy Academy as a Distinguished Scholar and Fellow. Formerly, she served as the President of the Midwest Deans of ASAHP.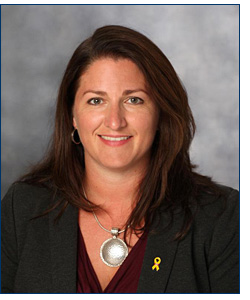 Distinguished Alumni Award (Rehabilitation Science):
Heidi Cramm, Class of 2012, PhD
Heidi Cramm graduated with a BSc in occupational therapy from Queen's in 2000 and worked locally in child and adolescent mental health for many years. Completing her post-professional Master's in occupational therapy from Dalhousie University in 2003, she began small-scale clinical research projects in the use of technology to support learning, which lead to the development of a specialized private practice and ultimately a drive to seek further education. She returned to Queen's to complete her PhD in Rehabilitation Science, which earned her the Governor General's Gold Medal for outstanding academic achievement. After a postdoctoral fellowship at Western, Dr. Cramm joined the faculty at the School of Rehabilitation Therapy in 2013. Since that time, she has had the opportunity to enact national leadership roles within the Canadian Institute for Military & Veteran Health Research (CIMVHR) and the Canadian Institute for Public Safety Research & Treatment (CIPSRT). In addition to these institutional leadership roles, Dr. Cramm has also proven herself to be an international research leader in military and veteran family health and a tireless advocate for occupational therapy. She has over 50 peer-reviewed publications, almost 200 conference presentations, and close to $20 million in research-related funding. Dr. Cramm has recently been recognized by the Canadian Association of Occupational Therapists Leadership Award as well as with the Thelma Cardwell Lectureship at the University of Toronto.
Distinguished Alumni Award (Occupational Therapy): Janet Craik - OT Class of 1989
Janet Craik, MSc., OT. Reg. (Ont.) holds a Bachelor of Science degree in occupational therapy from Queen's University and a Master's degree in Rehabilitation Science from the University of Toronto. She is a subject matter expert in occupational therapy with over 25 publications, including first-authored, peer reviewed papers; book chapters and invited guest editorials. She is a frequent lecturer and invited speaker to many university and college programs; and has extensive experience presenting at regional, national and international conferences.
Her progressive involvement as an occupational therapist includes many years as a front-line practitioner, manager, author and educator. She has a deep passion for advancing access to vital occupational therapy services within health and social care settings. In her current role as Executive Director for the Canadian Association of Occupational Therapists, she is the voice of occupational therapy at the national level (government, national associations and private sector). She keeps her eye on national public and private sector policy developments in health and social services, human resources developments and analyzes their impact on market trends and opportunities for occupational therapists. She is known for her collaborations with intra and interprofessional groups to advocate for health and social systems reform. She has experience in government relations and public policy, including presenting to Members of Parliament, senior bureaucrats, and has received special invites to national round tables and public forums.
Recent honours and appointments include adjunct professor in the School of Occupational Therapy, Dalhousie University; the American Occupational Therapy Foundation Certificate of Appreciation and the Canadian Journal of Occupational Therapy Editorial Board.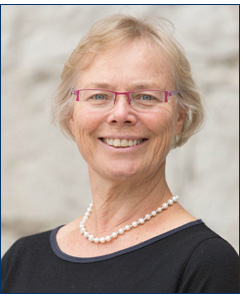 Distinguished Alumni Award (Physical Therapy): Cathie MacLeod - PT Class of 1970 (Diploma) & 1981 (BSc)
Cathie has focused her entire career in the area of clinical and functional orthopaedics. In 1973-74, she embraced the Norwegian biomechanical approach to Manual Therapy in Oslo, Norway and also studied the British and Australian methods extensively. In 1977, Cathie was chosen as one of the first Ontario-based instructors to teach post graduate manual therapy courses within the Canadian Physiotherapy Association Orthopaedic Division, and continued to do so until 1990. Her commitment to learning led her to numerous osteopathic, cranial sacral, acupuncture, biomechanical, functional anatomy, myofascial and laser courses in order to provide treatment options for those suffering acute or chronic orthopaedic and pain conditions.
Cathie established Physiotherapy Kingston in 1987, and in 2009 it became Physiotherapy Kingston and Spinal Rehab Centre. In 2015 her clinic was one of three privately owned locations in the Kingston area chosen by the Ministry of Health to provide government sponsored physiotherapy care. She has mentored physiotherapy students in the past, and since 2014, Family Medicine residents have been coming to her clinic to learn how orthopaedic physiotherapists assess conditions and provide treatments.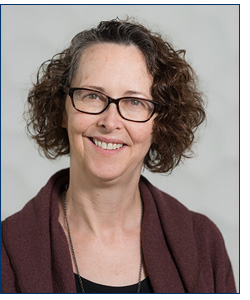 Distinguished Alumni Award (Rehabilitation Science): Ellen MacEachen - RHBS Class of 1993
Ellen MacEachen, PhD, is an associate professor and associate director with the School of Public Health and Health Systems at the University of Waterloo. She holds a Master's degree in Rehabilitation Sciences from Queen's University and a completed a PhD in Public Health at the University of Toronto. She is co-founder of the Centre for Research on Work Disability Policy and past president of the Canadian Association for Research on Work and Health. She sits on the Academic Council of the Pacific Coast University for Workplace Health Sciences and is an Associate Editor with the Journal of Occupational Rehabilitation.
MacEachen's sociologically oriented research focuses on the relationship between work and health. She examines the design of occupational health and vocational rehabilitation systems and how they can be adapted to suit changing work and demographic realities. Her forthcoming edited book, "The Science and Politics of Work Disability Policy", addresses social, political and political economic contexts driving state work disability policy reform in sixteen countries. MacEachen has a special interest in vulnerable workers and the growth of precarious employment conditions. In her research, she works closely with community partners and policy makers to ensure research relevance and to improve research impact.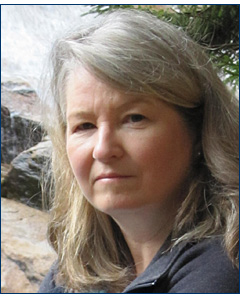 Distinguished Alumni Award (Occupational Therapy): Karin Carmichael - OT Class of 1984
Karin has worked in a number of progressively responsible positions in mental health services at Providence Care. For over 30 years, she has had the privilege of working directly with individuals as a clinician and in leadership roles. These leadership roles have encompassed operational and strategic initiatives and involved building a dynamic occupational therapy service as well as program development, community development and collaboration with diverse partners.
Throughout her career, Karin has been a strong advocate for recovery focused, community based mental health services. Karin has sought out opportunities to collaborate with service recipients, clinicians, academic partners and other service providers to design and deliver services that enable individuals to participate fully as citizens and experience a satisfying quality of life.  Partnership with researchers at Queen's University School of Occupational Therapy and Office of Interprofessional Practice has been especially important in the development of and dissemination of innovative practices such as social enterprise, transitioning legacy clients from hospital to community and the development of rural mental health services.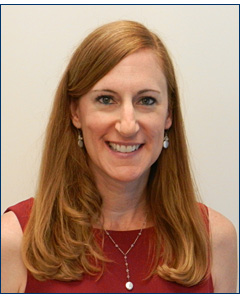 Distinguished Alumni Award (Physical Therapy): Lynne Sinclair - PT Class of 1991
Lynne is a Physical Therapist, an Educational Consultant, the Innovative Program and External Development Lead at the Centre for Interprofessional Education, University of Toronto (UT) and she holds an Assistant Professor appointment with the Department of Physical Therapy, UT where she has over 20 years' experience on the Faculty of Medicine.  In 2015 she was appointed as the first Interprofessional Education Scholar-in-Residence at The School of Community and Health Studies at Centennial College.  Lynne is widely invited as a keynote speaker for conferences, educational events and courses. She has taught across Canada, USA, Australia, Saudi Arabia and Denmark. She has been a principle investigator or investigator on numerous education initiatives and research projects totaling over $5 million.  
Before venturing out as a Consultant, Lynne was the Associate Director at the Centre for Interprofessional Education at UT and also served as the Associate Chair of the Department of Physical Therapy at UT. Lynne's passion for physical therapy and interprofessional education was ignited during her seven years at Toronto Rehabilitation Institute where she was the Director of Education for twelve health disciplines. She was awarded the 2008 UT Faculty of Medicine - Helen P. Batty Award in Faculty Development for Teaching Excellence. Lynne was awarded an Honourary Bachelor Degree in Applied Studies by Humber College Institute of Technology and Advanced Learning in June 2013 for significant contributions to society and accomplishments in her field.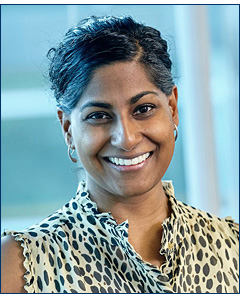 Distinguished Alumni Award (Rehabilitation Science): Monica Maly - RHBS Class of 2000 (MSc) & 2005 (PhD)
Monica completed her physiotherapy, Masters, and doctoral degrees in the School of Rehabilitation Therapy at Queen's.  She has used that foundation to build a research program that aims to keep older adults moving.  She uses biomechanics to develop physical activity guidelines for adults with the most common forms of arthritis that are associated with aging.  To achieve this goal, she integrates laboratory-based motion analyses to explore joint loading during exercise with advanced imaging techniques to examine joint tissues.  She is an active contributor to the Ontario Physiotherapy Association.  She is currently an Associate Professor at the University of Waterloo in the Kinesiology program.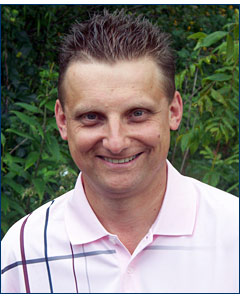 Distinguished Alumni Award (Occupational Therapy): Richard Lenart - OT Class of 1995
As an expert in spinal cord rehabilitation, Richard has worked for the past 2 decades as an occupational therapist and dedicated member of the Spinal Cord Injury Team at St Mary's of the Lake Hospital, Providence Care, in Kingston, Ontario and has made a significant contribution to the spinal cord injured population, both in hospital and in the community. He has also been a founding member of the Adult Neuromuscular Clinic at St. Mary's since 1997, providing care to those clients in our community with progressive neuromuscular conditions. In addition to client care, he has also participated in several working groups and committees to support the Physical Medicine and Rehabilitation Program at St. Mary's of the Lake Hospital.
Richard has demonstrated a strong commitment to the clinical education of occupational therapy students at Queens University throughout his career as well as contributing to the clinical education of countless occupational therapy assistants. As a regular guest lecturer at Queens University, Richard is a role model for students, providing clinical education in the area of spinal cord rehabilitation, team communication skills, fieldwork preparation and wheelchair/seating.
Richard is known for his skilled, compassionate and thoughtful client care, and his endlessly optimistic outlook for the future of his many clients.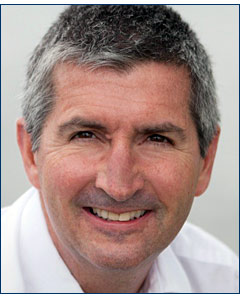 Distinguished Alumni Award (Physical Therapy): Neil Pearson - PT Class of 1985
Neil Pearson, PT, MSc, BA-BPHE, CYT, is a skilled compassionate clinician, engaging educator, and a leader in pain management in Canada. He is a physical therapist, yoga therapist, Clinical Assistant Professor at UBC, author, and faculty member for five yoga therapy training programs. He is the first physical therapist to win the Excellence in Inter-Professional Pain Education Award from the Canadian Pain Society, and the founding Chair of the Canadian Physiotherapy Pain Science Division. He is also a past Board member of Pain BC, and a very proud alumni of Queen's University's Physiotherapy, Phys.Ed. and Masters programs. In addition to his volunteer work, and offering workshops and pain science education through Canada and internationally, he has worked for the Doctors of British Columbia, teaching pain management to primary care MDs and specialists.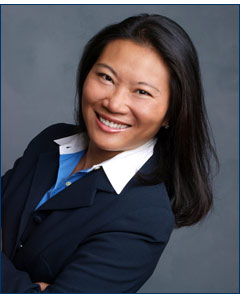 Distinguished Alumni Award (Rehabilitation Science): Yvonne Chan - RHBS Class of 1997
Yvonne Chan, BScPT, MSc(Rehabilitation Science), MBA, is the President of Oncidium, a private Canadian healthcare company dedicated to improving employee health and wellness. As a result of her personal disability experience, she has dedicated her career to creating systems which ensure quality access to the Canadian health care system for the everyday worker. She provides expertise on the analysis, design, implementation, ongoing sustainability and enterprise service delivery of occupational health programs which include: preventative health monitoring, ergonomics, fitness for duty, medical evaluations, duty to accommodate, and safe return to work or function. As a result, she has become the trusted health advisor and national manager of occupational health programs for the Government of Canada, chartered banks, and employers. By advocating and ensuring the role of the rehabilitation professional in occupational health, Oncidium has developed a national network of private sector Occupational Therapists and Physiotherapists who are able to provide consistent quality service delivery in urban and rural communities across Canada.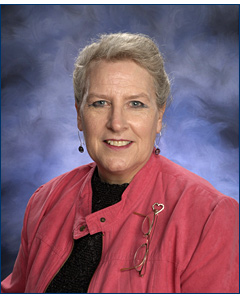 Distinguished Alumni Award (Occupational Therapy) - Sandra Hobson, BSc (OT) 1976
Sandra has demonstrated an unwavering commitment to her profession, her community and to the highest standards of clinical practice, education, and research. Her impressive contributions include over a decade of clinical practice as an occupational therapist; two decades of teaching at the undergraduate and graduate levels; presentations at a plethora of workshops and conferences around the country and the globe; and numerous publications in peer reviewed journals, books, and technical papers as well as membership on the OT Now editorial board. She was distinguished internationally with an Honorary Doctorate in 2003 for her contributions in setting up a rehabilitation department at the Belarusian State Medical University in Minsk, and nationally when awarded a Fellowship with the Canadian Association of Occupational Therapists in 2013.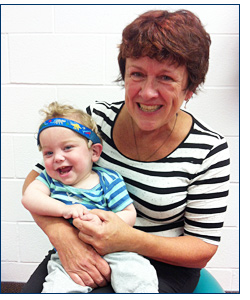 Distinguished Alumni Award (Physical Therapy) - Barbara Purdie, BSc (PT) 1979

Barbara is a physiotherapist at Five Counties Children's Centre in Peterborough. While specializing in pediatric rehabilitation, Barbara has demonstrated the highest level of service to children with disabilities and their families. As an active member of her profession, Barbara is a Canadian Physiotherapy Association member, past chair, and VP of the local district of Kawartha District, Ontario Physiotherapy Association. Barbara's demonstrated leadership extends into the community while as she worked as a volunteer physiotherapist in Jamaica, taking part in the Mustard Seed project. Further, she has participated in CANCHILD (National Pediatric Research) for the past 18 years and has served in leadership positions in multiple, youth focused community organizations. Maintaining close ties to her Alma Mater, Barbara has been a clinical coordinator and preceptor for Queen's Physiotherapy interns for approximately 25 years.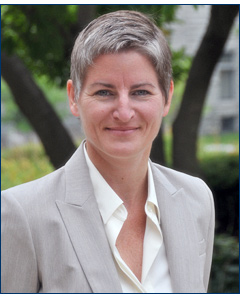 Distinguished Alumni Award (Rehabilitation Science) - Catherine Lysack, MSc (Rehabilitation Science) 1992

Cathy Lysack, Ph.D., O.T. (C), is the Deputy Director of the Institute of Gerontology, a Professor in the Department of Health Care Sciences (Occupational Therapy) and the Acting Dean at the Eugene Applebaum College of Pharmacy and Health Sciences at Wayne State University. Cathy's scholarship focuses on examining the social and environmental factors that influence rehabilitation outcomes for people with disabilities and older adults. Her research has led to critical empirical and theoretical insights about community engagement of older African American women and women with spinal cord injuries, and the experiences that older adults have during household downsizing and relocation. In recent years, she has become increasingly engaged in building capacity of rehabilitation providers to effectively work with older adults with mental health challenges. The strength and value of Cathy's scholarship is reflected by her 2007 induction into the American Occupational Therapy Foundation's Academy of Research.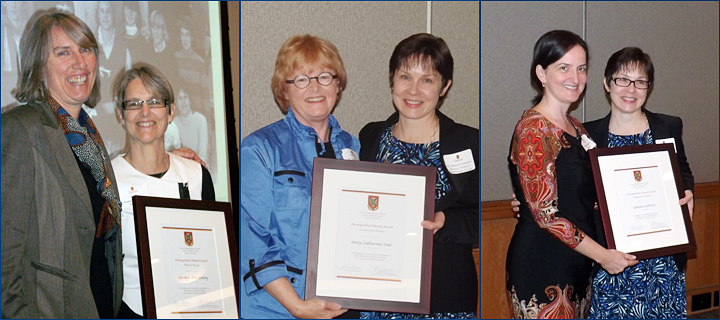 Distinguished Alumni Award (Physical Therapy) – Carolyn Emery, BSc (PT)'88 is an Associate Professor at the University of Calgary in the Faculty of Kinesiology (joint appointments in pediatrics and community health sciences). Dr. Emery is internationally recognized as a leader in the field of injury prevention. Her work has led to significant changes in public policy in Canada, especially related to the prevention of concussions and other sports injuries in children and adolescents. The primary example of this was USA Hockey (2011) and Hockey Canada (2013) eliminating body checking in 11 and 12 year old hockey players.
Distinguished Alumni Award (Occupational Therapy): Dr. Mary Law BSc (OT)'73 is a full Professor in the School of Rehabilitation Science at McMaster University and holds the John and Margaret Lillie Chair in Childhood Disability Research. Perhaps the two best-known of Dr. Law's many achievements are as the lead author of the Canadian Occupational Performance Measure (COPM) and as the Co-Founder of the CanChild Centre for Childhood Disability Research, a multidisciplinary research centre at McMaster University. The COPM is a client-centred outcome measure for occupational therapy that is now taught and used in clinical practice in 35 countries and has been translated into more than 20 languages. Through her work with CanChild, Dr. Law has become well known as a generous collaborator who has helped advance the career of many practitioners and academics.
Distinguished Alumni Award (Occupational Therapy): Djenana Jalovcic, MSc (Rehabilitation Science)'08 is the Director of the International Centre for the Advancement of Community Based Rehabilitation (ICACBR) here at Queen's. ICACBR has a major reputation internationally and nationally and is recognized as one of Canada's leaders in disability and development. Ms. Jalovcic's talent, leadership and commitment has played a key role in the success of the Centre over the last several years and has created global opportunities for Queen's faculty, staff and students to contribute to the improvement of quality of life of the most vulnerable populations in the world. She is the Principal Investigator on two major ICACBR projects in Bangladesh, one of which is among the first in the world to explicitly link disability to maternal and child health.